Ross Brawn reckons there's no chance of a Monaco-style win for Mercedes this weekend
Team boss says they wouldn't be able to dictate race pace in Canada
By Mike Wise in Montreal
Last Updated: 09/06/13 7:49pm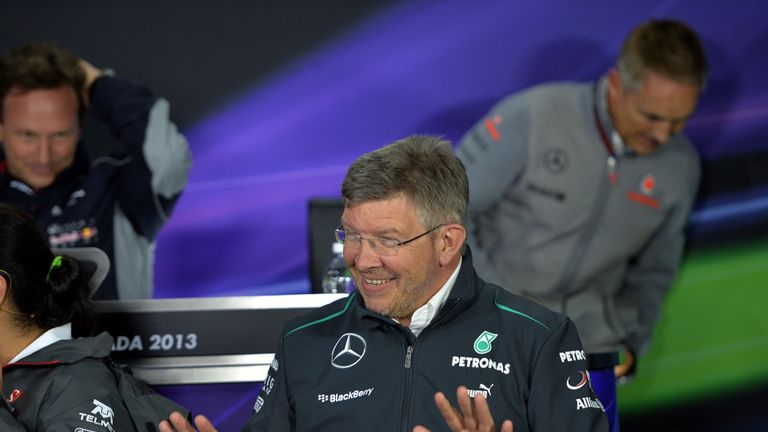 With the Silver Arrows' post-qualifying press session officially declared a 'Testgate-free zone', attentions were focused on the performances of Lewis Hamilton and Nico Rosberg and their chances in Sunday's race.
In fact, the only reference to the elephant in the room came from the team boss himself. "I've been a bit tied up this weekend," he admitted with a rueful smile at one point. It came in response to a tyre-related question - Pirelli's product still the all-important subject matter, albeit strictly limited to sporting facets only.
With Hamilton and Rosberg respectively lining up second and fourth two weeks after securing a front-row lockout in Monaco, Brawn readily admitted that a similar performance in this race is unlikely.
Mercedes laid the foundation for Rosberg's victory in the Principality by dictating the pace through the narrow streets to keep their Achilles heel of tyre wear under control. Unlike there, however, overtaking at Circuit Gilles Villeneuve - a track that's basically a series of long straights followed by tight corners - is a likelihood rather than a rarity.
"There's a capacity to overtake here. I think another thing that's going to be very interesting tomorrow is if we get the balance slightly wrong. The track's very green and you can get into graining very easily. The balance has got to be absolutely critical tomorrow," pondered Brawn after a session held in damp conditions.
"We're obviously going to decide what tyres we're going to start on, there's a free choice now for the prime or option. We've got quite a lot of work now on how to approach it.
"I'm hoping that everyone's cars aren't dialled in quite as well as they are normally and we can have a bit of a chance. But because of the capacity to overtake, we certainly can't do a Monaco here.
"It's going to be a fascinating battle tomorrow. We saw with Red Bull some graining on their long runs, so they'll be attempting to dial that out for the race. It'll be very interesting."
Although Brawn said that both Mercedes drivers had used all their intermediate tyres in qualifying, he admitted that they'd still prefer more showers to a dry race - a sign that tyre wear remains a concern.
"I think there's quite a few flat spots on the tyres, so we're going to have to take our time picking out the best sets. It was unusual today having a complete session of qualifying on intermediates; normally it's the tyre you pass though," he said.
"They're not in bad shape but we've got no new intermediates left. I don't think anyone else has either. That's a small factor tomorrow but mixed conditions would be a little bit more attractive to us."
For Hamilton, there was the satisfaction of outqualifying his team-mate for the first time since his pole position in China. Brawn said that the 2008 Champion, three times a winner in Canada, has looked the stronger so far this weekend but also pointed out mitigating circumstances.
"[Hamilton's] sort of quietly got on with it this weekend. He's kept his head down, worked with the engineers and I think you'll naturally get this yo yo-ing of drivers with two drivers like we've got, who are very competitive," he added.
"Undoubtedly, of the two this weekend, Lewis has been happier with his lot. Nico had some radio problems today unfortunately, which has hurt him. We lost the radio in the car and in a session like that, that's the worst thing."