Sergio Perez says equal-best 2013 qualifying result not motivated by McLaren axing
Q2 evictee Button, meanwhile, baffled by his loss of single-lap pace
By Pete Gill
Last Updated: 16/11/13 9:51pm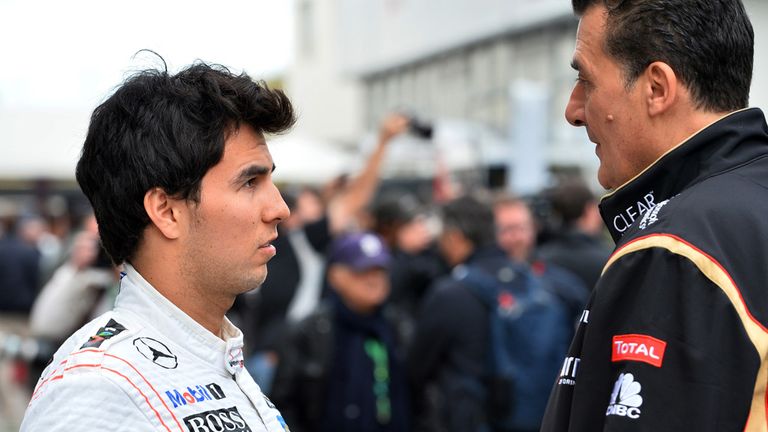 The Mexican, who lines up a joint season-best seventh for his 'home race' at the Circuit of Americas, was informed at the start of the week by the Woking-based team that his services wouldn't be required for 2014, with McLaren opting instead to appoint 21-year-old Dane Kevin Magnussen.
The sudden ejection leaves Perez struggling to remain in the sport for 2014 and driving with his F1 future very much on the line in the final two races of the season. But the Mexican is adamant that his positive response in Saturday's qualifying hour wasn't a direct consequence of McLaren's decision or his precarious employment prospects for next season.
"At the end of the day, I'm a racing driver - my manager and the people around me have to look to my future, and obviously this kind of result helps," Perez told Sky Sports F1. "But I'm not thinking about that. I am just doing my best for my engineers and the people who have helped me at McLaren and my people who have come here. It's not cheap and I really appreciate their effort."
Debate continues to rage in the paddock about the rights and wrongs of McLaren's decision to jettison Perez, with team boss Martin Whitmarsh moved to reveal that he had "rung Lotus and Force India" to advance the candidature of Perez to take one of their vacant seats for 2014.
"I'm delighted for him today, he did a great job. He's on the market for next season and this was a well-timed result," Whitmarsh told Sky Sports News. "He was 0.3 seconds from being third. We are certainly up there racing with the Ferraris and Lotuses which we weren't a few races ago.
"Sergio is a lovely guy, which good grace, and he is determined to go out on a high and positive note with this team. He has developed a lot and I think he deserves a place in Formula 1 - and I suspect he will be racing in Formula 1 next year. But even though we have helped improve and develop him, ultimately you have to make a decision which is right for the team about who has the greater long-term potential.
"It was a tough decision. You never know with absolute certainly whether it is the right decision, only time will be the witness to that and we will have this discussion in a year's time about whether Kevin has lived up to expectation. It doesn't always work but we believe in Kevin. Without Kevin, Checo would be racing for the team next season."
Perez has now drawn level with Jenson Button in their battle to be the top dog at McLaren in qualifying this season, with the Englishman losing out to his current team-mate in four of the last five events.
Already on the back foot after collecting a three-place grid penalty for overtaking under a red flag during Practice One on Friday, Button endured a torrid qualifying session and will start Sunday's race a lowly 16th.
Such was his dejection that Button could barely muster any words for Sky F1 afterwards, although he did later add on McLaren's official website: "That's tough, especially when we've looked pretty quick for most of the weekend. But I don't know where our pace has gone in qualifying - it's not the first time it's happened.
"I don't know what happened. I couldn't find the balance or the grip. The pace just wasn't there. It wasn't necessarily the weather conditions - other drivers seemed to cope - although I guess it may have contributed. We'll investigate. It was weird though."
You can watch the U.S. GP live on Sky Sports F1 - the Race Show live from Austin begins at 6pm on Sunday.