Pastor Maldonado waits on confirmation of 2014 seat as Lotus rumours escalate
But prospective Lotus investors vow to finish deal "this week"
By Pete Gill and James Galloway
Last Updated: 18/11/13 7:52pm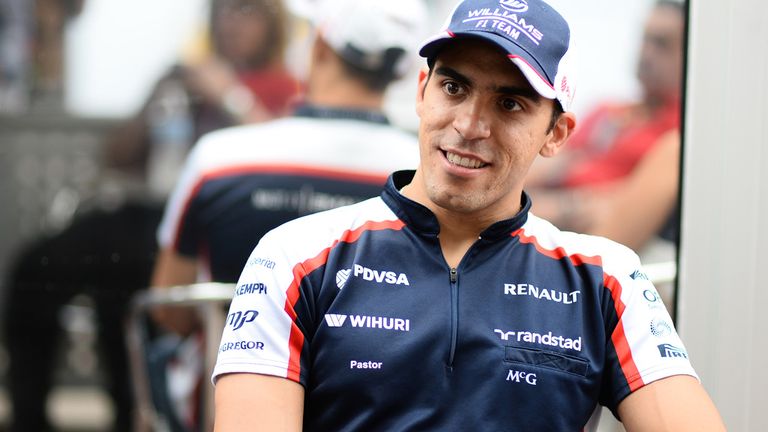 At the end of a turbulent weekend at the United States GP for the South American, in which his relationship with Williams reached rock-bottom after he seemingly accused team members of sabotaging his ill-handling FW35, Maldonado could be on the cusp of being appointed Romain Grosjean's 2014 team-mate.
Nevertheless, despite Maldonado's apparent belief he will be chosen as Kimi Raikkonen's successor, the door does not appear to have entirely closed on Nico Hulkenberg.
"I have the idea very clear and I took the decision already. We are expecting to sign the contracts," Maldonado, whose departure form Williams was officially announced last week, told reporters on Saturday night.
Pressed to reveal after Sunday's race if his whereabouts next season would be revealed soon, Maldonado told Sky F1: "I hope so, we are just waiting for confirmation."
Clarification that Maldonado is moving to Lotus would represent a hefty blow to Hulkenberg in his ongoing - and so far fruitless - search for a top-tier seat in F1.
While Maldonado trailed home in just 17th, with his presence in the race only conspicuous during a tangle with Adrian Sutil that resulted in the Force India hitting the barriers with such violence that the Safety Car had to be deployed, the German once again impressed as he finished just behind Fernando Alonso in sixth.
Although Hulkenberg's search for a competitive seat has been further complicated by the sudden appearance of Sergio Perez in the driver market, the doomsday prospect of the German failing to find a place on the grid next season has been averted by the assurance that he can stay on at Sauber if he so wishes.
Hulkenberg's apparent hesitation in accepting their offer would seemingly suggest he doesn't believe the Lotus seat is out of his reach.
Indeed, it remains to be seen whether Maldonado's astonishing outburst after qualifying at the Circuit of Americas will prompt a change in thinking on Lotus' part, or if the promised arrival of long-awaited funds from the Quantum Motorsport consortium could persuade the team to overlook Maldonado's reputed $30m dowry in favour of Hulkenberg's talent.
The head of Quantum Mansoor Ijaz appeared alongside Lotus Team Principal Eric Boullier in an interview with Sky Sports F1's Martin Brundle in Austin on Sunday and was asked if the projected injection of funds would allow the outfit to hire Hulkenberg.
"We're going to make that part of it happen in terms of making sure he [Boullier] gets enough money. One of the things I did over the past three weeks while things kept on getting slowed down was we put other opportunities that we had in place to go ahead and fund," Ijaz said.
"So in fact we may bring a lot more money to the table than we initially anticipated just to make sure that the back stop behind the team to keep it going for a very long time. That's part one, just to buy into the team.
"The second part is the sponsorships that we're going to bring. Now no sponsor's going to come on board from our side until they know that the share purchase part of the occasion is complete. But when that's complete then those sponsorships will come pretty quickly - and they're major sponsorships we're talking about, they're not small sponsorships."
Although the proposed deal, which will result in Quantum buying 35% of the Lotus team, was first announced as long ago as June, Ijaz has insisted the transaction will be completed this week.
"We are still very going to join them. We have done from our part when we needed to to make sure that the assets in our portfolio were released," he said.
"We're very close to the end now - I'm pretty sure that we'll get it done this week. We will not quit until we finish it this week - and we will finish it this week."