Jenson Button thanks British fans for 'overwhelming' support after qualifying third
McLaren driver claims team's best grid slot for two seasons
By James Galloway at Silverstone
Last Updated: 06/07/14 8:18am
Jenson Button admitted that qualifying third for his home Silverstone race on the same weekend in which fans are helping him celebrate the memory of his late father was an "emotional" achievement.
The Frome-born driver and 2009 World Champion has famously never finished on the podium at the British GP in 14 attempts and a long-awaited breakthrough seemed unlikely this year given that struggling McLaren currently sit sixth in the Constructors' Championship.
However, taking full advantage of unpredictable conditions in a topsy-turvy qualifying hour, Button ensured he will at least start Sunday's 52-lap race in a podium place by delivering in the closing seconds of Q3 to claim a surprise third on the grid – his and the underperforming team's best qualifying result since the 2012 Brazilian GP, Button's last win.
In the build up to this weekend's event, Button invited fans attending Silverstone on Sunday to turn the grandstands 'Pink for Papa' in memory of his father John, who died suddenly in January.
And the 34-year-old, sporting a special pink crash helmet this weekend, said achieving such an unexpectedly high grid slot was therefore particularly poignant.
"For me it was obviously quite an emotional slowing down lap," Button admitted. "As I've said before – as we always say – qualifying's qualifying and the race is tomorrow, but when you do a lap that you're happy with and it's in front of your home crowd and I knew the Old Boy would have been very happy, it would have meant a lot.
"I've had so much support from the fans, it's been overwhelming, a lot of guys wearing pink out there in respect to my Old Boy. Yeah, a good day today and he's definitely smiling down today."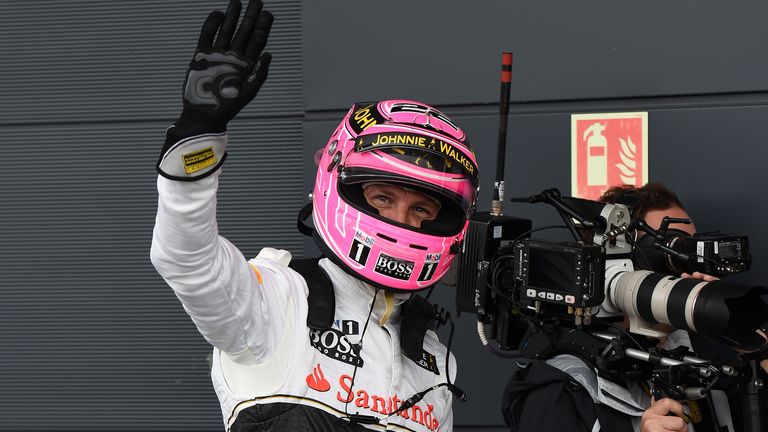 Long regarded as an expert in delivering in the kind of changeable track conditions that dominated the qualifying hour, Button explained that McLaren's relative lack of competitiveness meant he had to throw caution to the wind on the decisive final Q3 runs.
"All of the qualifying session I felt like I could read the conditions pretty well," he said. "Then it came to Q3 and the last timed lap, which obviously meant everything, and I said to the guys, 'I have wheelspin in fifth gear in a straight line – this isn't going to happen'. They said, 'Just push and you're not going to lose'.
"We have to take the risks to gain a position at the moment so I pushed, a very aggressive lap, but it worked. So thanks for the team for their call.
"Being third here in front of the home crowd on this weekend this year really means a lot. So I'll go to bed very happy and took forward to the race."
Button's season-best qualifying performance came just days after McLaren Chairman Ron Dennis caused a stir in an exclusive interview with Sky Sports F1 by giving the Woking outfit's experienced team leader what has widely interpreted as a 'hurry up'.
The Briton, who is out of contract at the end of the current campaign, issued a measured response to his boss's remarks when quizzed on Thursday, and when the subject was broached again in the wake of his stellar qualifying performance, Button hinted he and Dennis had since cleared the air.
"One result doesn't mean anything," Button insisted. "We've obviously talked since and yeah, I think there's mutual respect there but when we all want things to improve quicker than what they are, we maybe say things in the press that maybe we shouldn't.
"We have a really good working relationship and I hope that that continues into the future."
Fifteenth time lucky for Button?
2000 - Williams
Started 6th; Finished 5th
2001 – Benetton
Started 18th, Finished 15th
2002 – Renault
Started 12th, DNF
2003 – BAR
Started 20th, Finished 8th
2004 – BAR
Started 3rd, Finished 4th
2005 – BAR
Started 2nd, Finished 5th
2006 – Honda
Started 19th, DNF
2007 – Honda
Started 18th, Finished 10th
2008 – Honda
Started 17th, DNF
2009 – Brawn
Started 6th, Finished 6th
2010 – McLaren
Started 14th, Finished 4th
2011 – McLaren
Started 5th, DNF
2012 – McLaren
Started 16th, Finished 10th
2013 - McLaren
Started 10th, Finished 13th
2014 – McLaren
Started 3rd, Finished ?
Watch the 2014 British GP live on Sky Sports F1. Our extensive coverage of the Silverstone race weekend continues on race day from 11.30am on Sunday.