2014 Hungarian GP Practice One: Round one to Lewis Hamilton over Nico Rosberg
Kimi Raikkonen third fastest for Ferrari; Engine fire for Max Chilton
By Mike Wise in Budapest
Last Updated: 25/07/14 11:57am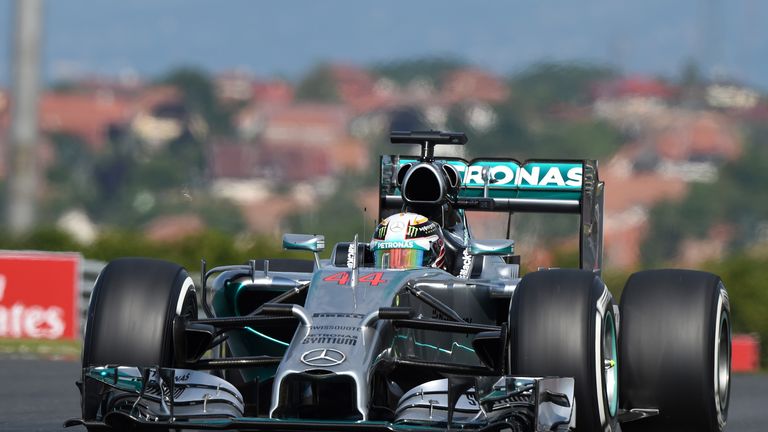 Lewis Hamilton set the pace ahead of Mercedes team-mate Nico Rosberg in opening practice for the Hungarian GP on Friday morning.
Hamilton, who is seeking a record-breaking fifth win at the Hungaroring this weekend, lapped the 4.381km track in a time of 1:25.814s to go 0.183s faster than Rosberg.
As is usual, there was a fairly large gap to the rest but neither Red Bull nor Williams led the chase in P1 at least, with Ferrari next in line behind the Silver Arrows.
Another surprise, perhaps, was that Kimi Raikkonen set the third fastest time, the Finn about 0.6s slower than Hamilton but also about 0.4s faster than Fernando Alonso in fourth.
The top ten was completed by Sebastian Vettel (Red Bull), Kevin Magnussen (McLaren), Jean-Eric Vergne (Toro Rosso), Daniel Ricciardo (Red Bull), Jenson Button (McLaren) and Felipe Massa (Williams).
The main protagonists were out on track early. Conditions might have been warm and sunny but the circuit was also very dusty – not that it appeared to matter to Hamilton and Rosberg, who effectively cleaned the track for the other cars.
As such, they were never headed throughout the 90 minutes, although Raikkonen briefly split them. Like Hamilton, the Finn has tended to go well at the Hungaroring – which attracts a large Finnish contingent among its spectators – and having been comprehensively outperformed by Alonso so far this season, he could also do with a good result this weekend.
Meanwhile, the slower start by Red Bull and, particularly, Williams might have something to do with the loss of FRIC suspension systems in Germany.
Williams were slow starters there too, although Valtteri Bottas – 15th fastest on Friday morning – eventually finished second behind Rosberg.
Vettel was among a number of drivers heard to complain about poor balance and it could take more time to perfect set-up on the tight, twisting track, which not only has more bumps and kerbs than Hockenheim but also has slower corners – exactly the sort of place where FRIC would have given its greatest benefit.
Second practice starts at 1pm BST.
More to follow…