Daniel Ricciardo says the F1 title isn't out of reach following victory in Hungary
Australian feels double points on offer in Abu Dhabi give him hope
By William Esler
Last Updated: 01/08/14 2:50pm
A delighted Daniel Ricciardo says the F1 title isn't out of reach and that he can get even better in the second half of the season following his victory in a thrilling Hungarian Grand Prix.
The Australian remains the only non-Mercedes driver to have won a race in 2014 after adding to his Canadian GP triumph at the Hungaroring in a breathtaking spectacle. However, unlike the race in Montreal when he inherited the lead when Mercedes hit mechanical trouble, this Sunday's victory was earned in a straight fight in which Red Bull were the team to get their strategy right.
The result sees Ricciardo cut the gap to Nico Rosberg in the Drivers' Championship to 71 points and with double points on offer at November's Abu Dhabi season-finale, when 50 are available to the race winner, the Australian isn't ruling out a maiden title and Red Bull's fifth consecutive triumph.
"I am aware that today I closed the gap, but there is still a long way to go," he told Sky Sports News. "Everyone is saying how weird this Abu Dhabi points system is, but I might keep it close to me and it might work out – we'll see."
Ricciardo charged past former World Champions Lewis Hamilton and Fernando Alonso in the closing laps with decisive moves and he says he couldn't afford to lose time sitting behind either car.
"It was fun," he added during Sky Sports F1's post-race show . "I knew we had to make it happen and once I caught them I was sat behind for a few laps and my tyres weren't getting any better sitting in that traffic so I knew once I had a sniff I had to go for it and that is what I did."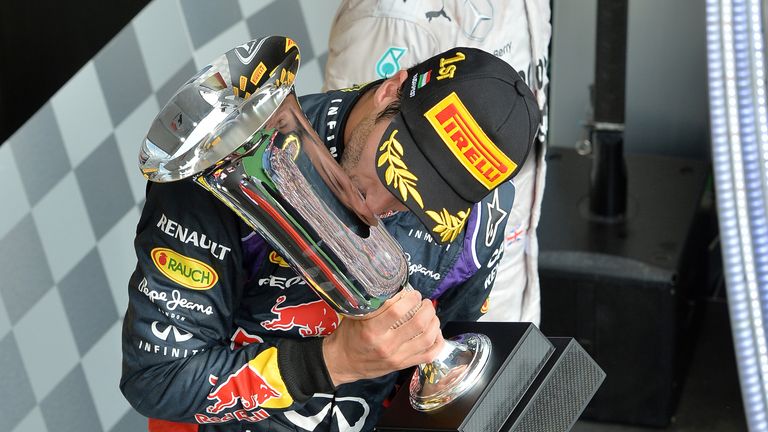 Now a multiple winner in Formula 1, Ricciardo says the winning feeling is just as good as in Montreal.
"It felt awesome – definitely as good as the first," he enthused. "I think the first is great, but the second you realise a bit quicker what went on and in a way you are able to enjoy it quicker. When I crossed the line I knew what was going down and I let out a lot of emotion."
F1 now takes a four-week break before the action resumes at the legendary Spa-Francorchamps circuit in Belgium and the Australian is clear in what his targets are.
"Just to get better," he concluded. "I think that is realistic, I'm young, I am still going to keep improving, I am not getting slower so let's keep on this ramp."
Ricciardo's drive delighted his Red Bull bosses with Christian Horner running out of superlatives for his new recruit.
"Unbelievable – how he made that work was incredible," the Team Principal said from the pitwall. "He managed to get in at that first stop which was crucial and then he just got his head down – that middle stint after the Safety Car is where he did the damage. It was an incredible drive from Daniel and I can't say anything high enough for him."
Chief Technical Officer Adrian Newey was equally impressed, but admits making the right strategy calls was key.
"I think Daniel did an absolutely super job," the design guru said. "It was very tricky to start with, especially out on slicks after stopping during the first Safety Car, then the real gamble for us was what to do under the second Safety Car – to pit again and give up the lead, I think Daniel had about a ten-second lead at the time, or keep going and that was really down to tyre life. 
"We thought the best way to do it was to split the remainder of the race into three, we didn't think if we stayed out we could do it without the extra stop and Daniel did a great job at the end getting ahead of the two cars in front of him."