McLaren's Jenson Button & Sergio Perez say lack of straight-line speed compromised race
Both drivers feel poor result didn't reflect true pace
By James Galloway
Last Updated: 08/09/13 6:01pm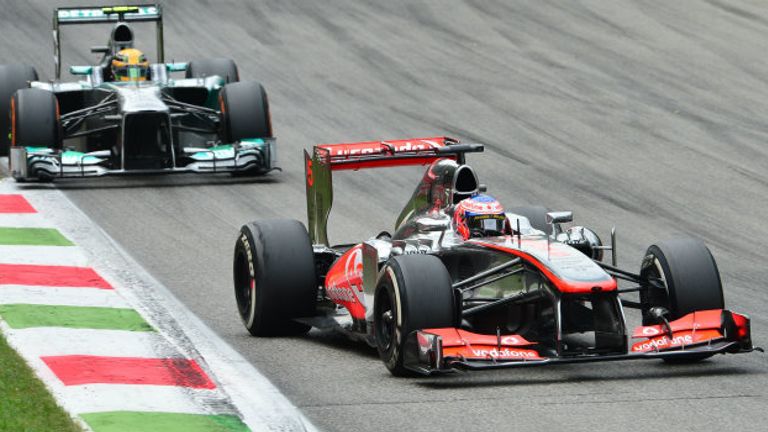 The pair finished in disappointing tenth and 12th places respectively at the end of Sunday's 53-lap event after spending much of the race in traffic and then losing late ground to the out-of-sequence Lewis Hamilton.
Button, who just managed to keep the Lotus of Kimi Raikkonen at bay over the final lap to pick up the final point, pointed squarely at incorrect gearing on the MP4-28 having been unable to pass the Toro Rosso of Daniel Ricciardo or Romain Grosjean in the other Lotus.
"I think if we raced and there were no other cars we would have had pretty good pace," he joked to Sky Sports F1's Natalie Pinkham.
"But we made a mistake today - we geared it wrong - and I was hitting the limiter so early.
"The problem is, for the start of the race you can still have a little battle and maybe overtake and I got past Lewis. But as soon as the fuel starts coming down your cornering speeds go up and so the end of straight speed goes up - and we're on the limiter as soon as we deploy DRS.
"So that's why when we're in traffic cars can just pile past us. I don't think our pace was too bad, I think our pace was quicker than the Toro Rossos, but we couldn't get past them. We were just sitting ducks then."
Button added that he was nonetheless surprised to make the finish given he flat-stopped his tyre with a quarter of the race to go.
"I just flat-spotted my tyre into turn one pretty massively - I'm surprised it's still got air in it - and then I had that for the last 15 laps," the 2009 World Champion added.
"So it wasn't a great race. It would have been a lot better if it stopped ten laps early!"
After being outqualified by Perez for the fifth time this season on Saturday, Button was at least able to take some comfort from beating the Mexican in the race - although he wasn't quite sure why his team-mate delayed his pitstop.
"I think in most teams the lead car gets the choice on stops," Button said.
"Basically we said we were going to stop on that lap to stay in front of Grosjean and I'm guessing they [Perez's crew] said they didn't want that lap because the lead car always gets choice on stops, that's always the way it's been, and I got the lap.
"Initially it was 'Checo's coming in' on the radio 'push hard you're coming in on the next lap' and then 'no, you're coming in on this lap' so I did."
Team-mate Perez was powerless to stop both Hamilton and Raikkonen, who pitted later than most for fresher medium tyres, sweeping past him in the closing stages. The 23-year-old echoed his senior team-mate's regret over the MP4-28's top-end gearing.
"Very disappointed, I think we deserved much more than that. We were held up by Ricciardo in the race but our straight-line was pretty poor so I couldn't get past him," Perez told Sky F1.
"We stopped a lap late, the pitstop didn't go so well, so I lost a position to Jenson and from then on it was just a train of cars. Without the straightline [speed] I couldn't get past anyone and the people behind like Kimi and Lewis they just came and passed me.
"So a pretty unfortunate race, not what we expected. I got hit into turn one [by Raikkonen] so I had to cut the chicane unfortunately, but it is what it is."