Whitmarsh: Lewis not to blame
Martin Whitmarsh has refused to blame Lewis Hamilton for running the old specification rear wing at Spa, insisting McLaren make decisions as a team.
By William Esler
Last Updated: 02/09/12 3:28pm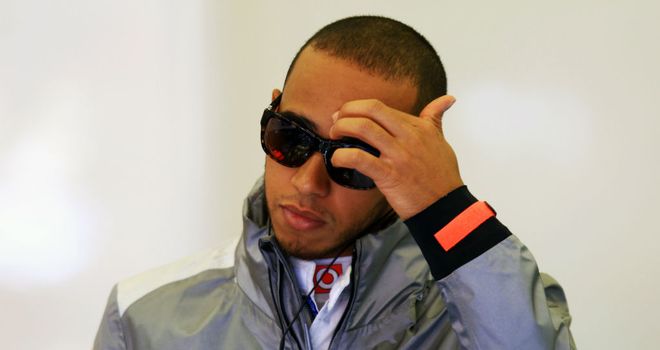 Martin Whitmarsh has refused to blame Lewis Hamilton for running the old specification rear wing at Spa, insisting decisions at McLaren are made as a team.
Whilst team-mate Jenson Button ran with the low-downforce wing specifically designed for the Spa circuit in a qualifying session that saw him claim pole position, Hamilton had felt uncomfortable with how it altered the aerodynamic balance of the car in final practice and opted to switch to a design he was more familiar with.
The McLaren Team Principal says that a dearth of data caused by a lack of Friday running affected the decision - but feels the 2008 World Champion can still be a threat in the race.
"We are a team - so we make these choices together," Whitmarsh told Sky Sports News.
"On Friday we had virtually no running, yesterday morning we just had one hour. In that hour we wanted to compare tyres, fuel loads, aerodynamic setups, so the data we had was compromised. Lewis wasn't comfortable with the new wing, so we made the decision to go back to the old one.
"They have different downforce levels, I think if you look at the top 10 drivers there is quite a span in downforce levels. I would say Lewis is at a similar level to Kobayashi and Kimi Raikkonen, so I think you've got a 50:50 split of low downforce and medium downforce and again that is going to add to the race because in the middle section of this track you want downforce, so those with high downforce will be quicker, but then they are going to struggle on the straights.
"So, there will be a mix of that along with tyre degradation, KERS and DRS so it will be a pretty unpredictable race."
Since the season-opening race in Australia, it has been a familiar sight to see one McLaren struggle whilst the other is competitive. However, Whitmarsh was keen to stress this was not a problem exclusive to McLaren.
"I think if you go up and down all the top garages at the minute you have got one happy side and one unhappy side," he added.
"I think everyone knows this is an extraordinary track, it's a long lap, a long race and lots of things can happen, so I think Lewis will be keen to get as many points as he can and Jenson will be trying to create a very boring processional race if he can.
"Anything can happen here, anything can happen at the start, I don't think it will rain although it often does here. It's a tough track, it's a demanding track for the drivers, it's produced some really spectacular events. Overtaking I think will be considerably easier here than it has been at some of the recent races so I think we could see all sorts of things going on."
Pole-sitter Jenson Button is currently 88 points behind Fernando Alonso in the Drivers' standings, but the McLaren boss is not ruling out a second title for the 2009 World Champion.
"It was a surprising qualifying session, there are 25 points up for grabs here and we have got nine races left. Jenson has demonstrated he can put the car on pole and win races and hopefully he will win this afternoon," Whitmarsh added.
"Lewis we hope is going to get up there as close as he can. He will be trying to beat Jenson, but I think it is tough from where he is. If he can score some points, we can go away from here knowing we have got a quick car, we've got two competitive drivers who want to beat each other and everyone else, and we will go for the Championship."