Kimi Raikkonen hopes it doesn't rain in Belgian GP after qualifying blow
Finn left hoping for dry race after losing out in Q3 rain
By James Galloway at Spa
Last Updated: 24/08/13 5:42pm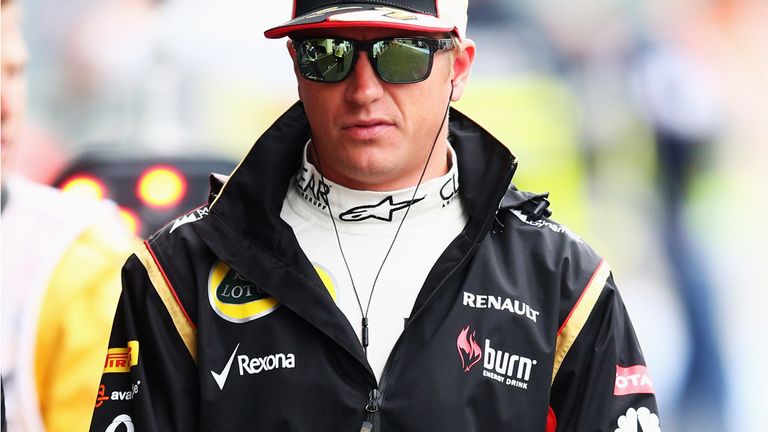 The World Championship contender experienced a similar reversal of fortune to that of rival Fernando Alonso during the changeable weather that dogged qualifying. Having looked poised for arguably his strongest Saturday of the season after setting the pace in the dry in Q2, Raikkonen lost out when the rain returned in the final phase and could only set the eighth fastest time, one place higher than Alonso.
Normally drivers who start out of position are left yearning for unpredictable conditions, but Raikkonen says the E21's pace in the dry is such that more rain on Sunday - which is widely forecast - could prove counterproductive.
"For sure I think dry is better for our car - we've seen that every time. But we cannot choose that," the four-times Spa winner said.
"When it gets mixed conditions sometimes you get the timing right, or you choose the right tyre in the right time. It's more difficult to plan things so it can be a bit more luck also.
"We've been in much worse starting positions and made a good result. Here usually you are able to overtake if you've got the speed. So I think everything is possible [if it's dry]."
While the leading Mercedes and Red Bull cars benefitted from more fortuitous positioning on the circuit at the end of Q3 as the track dried again, Raikkonen was further round his flying lap and so didn't get the best of the conditions. He admitted he could have done with another.
"I don't know really," the Finn replied when asked what had gone wrong. "Obviously we seemed to have a pretty good speed on the dry and also not too bad in the wet in Qualy One. But we were maybe a bit unlucky with the timing, if we could have done one more lap we should have been a bit higher up as it dried up so quickly.
"But I don't know how the weather will be tomorrow and we'll have to see what we can do in the race. Usually we do a bit better, but we'll wait and see."
But while rueful about the missed opportunity, the 33-year-old was characteristically phlegmatic about the situation.
"[I was] not far [out] because when I came out from the last corner I saw that it [the lights] went red - so maybe five seconds?" Raikkonen reflected.
"When it starts raining you cannot plan those things so you either get it or not and this time we didn't. It's a shame because we had a pretty good speed."
While Raikkonen acknowledges the E21's straightline speed, a key requirement for Spa, isn't one of its overriding strengths, he feels happy with the car's dry-weather handling.
"We improved the car quite a bit for today since yesterday so we're not too bad. But the race is always a different story," he added.
"We're not so fast in a straight line but we'll see. It's a similar story to last year so hopefully we can [move forwards]."