2013 Belgian Grand Prix - Driver reaction
The 22 drivers have their say on the Belgian Grand Prix
By William Esler
Last Updated: 25/08/13 5:58pm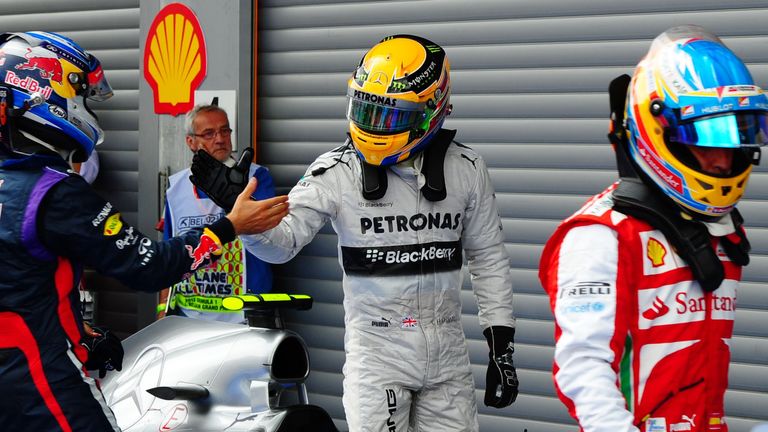 Red Bull
Sebastian Vettel: "I don't think we expected to be dominant here, and it surprised all of us actually; it's a great result. I think we knew going into the race that our race pace, compared to Mercedes, maybe gave us a little in hand, but we didn't know where we were compared to the others, especially Ferrari, and Lotus looked very quick in dry conditions also.
"It wasn't clear if the rain was going to come at the end of the race, so we kept pushing, but the gap we had by that stage meant we were able to control the race from there and the last couple of laps weren't too stressful."
Mark Webber: "The two practice starts before the race weren't great and so we were a bit worried about the clutch going to the start, which put us on to the back foot. We tried our best, but lost a couple of rows off the line which is not good.
"We then had to try and clear people on the track, which was difficult, as we had set up the top gear to race in clean air, rather than to pass. The bad start put us out of position and it snowballs from there, as you use up the tyres trying to getting to back into position."
Ferrari
Fernando Alonso: "Today's result shows that the outcome of qualifying bears little relation to the result on Sunday, although I think that even if I'd started from pole I would still have finished second, because Vettel was quicker. At the start we immediately made up some places and all in a rush, first passing Button, then Rosberg and Hamilton, so I found myself six seconds behind Vettel, but if one looks at the final gap of 16 seconds, we can but congratulate him and his team.
"The car worked well in all conditions, with a full fuel load at first and then with a lighter one at the end and, on top of that, the extra speed we had on the straight meant I could overtake without taking too many laps to do so. We know we have made a step forward and that we have recovered some of the competitiveness we had lost in recent races. In Monza and Singapore we will see the next steps in this process.
"The updates used in this race worked well and, even if they were aimed at this particular circuit, they are the results of work that goes on twenty four hours a day, at home and at the track. That makes us optimistic for the coming races, because our goal still remains the same, namely to fight for the title right to the end."
Felipe Massa: "That was a difficult race for me right from the early stages, because after managing a good passing move at the start, I then had to slow and drop back four or five places, to avoid a collision with Grosjean at the exit of the first corner. From then on, things got complicated because for a few laps I had a problem on the steering wheel linked to the KERS operation and I wasn't able to communicate well with the team.
"When everything was back to normal again, it wasn't easy to catch up, because even if the decision to bring forward the first pit stop allowed me to get past several cars, the pace wasn't good. In the final stint on the Hard tyres, the car was very competitive and I managed to gain some important places, with a nice passing move on Grosjean.
"I definitely can't be pleased with seventh place, because today, our car deserved better, but the fact we're more competitive than at the last few races makes me think we are working in the right direction and so we can hope to make progress throughout the second half of the season."
McLaren
Jenson Button: "We were trying for a one-stop strategy at the start of the race, then we adapted that to a two-stopper later on. We gave it a go, but our pace still wasn't quite as good as that of the cars in front of us, so we couldn't really chase them down at the end of the race.
"Having said that, it was decent race for us. Moreover, as always, it was really fun to race around this magnificent circuit - I really enjoyed driving the car today.
"In terms of performance there's been a small but definite improvement, so we should be pleased with the progress we've made. I'm pretty happy with the feel of the car now, in fact; okay, there's still room for improvement in terms of pace, but the good thing is that we know which areas we should be focusing on.
"So I'm looking forward to Monza - another great circuit - where hopefully we can take another small step. We're not going to be fighting at the front, we know that; instead we're concentrating on ourselves, gradually understanding more about the car, and progressively improving things.
"There are still a lot of grands prix left this season, and we can enjoy some of them, I'm sure."
Sergio Perez: "My race started pretty well. I managed to make up a couple of positions at the start, and then a few more in the first 10 laps, and at that point things were looking pretty good. I was happy with the balance of the car and we were on a good strategy.
"Then came the drive-through, and after that it was always going to be tricky to score any points.
"What happened with Romain [Grosjean] was unfortunate. I got ahead of him, and took the corner, but I now understand where the penalty came from, even if I'm naturally disappointed for myself and for the team. These things are always difficult, but the team spirit at McLaren is unbelievably strong and now, together, we simply have to move on.
"What we must now do is look ahead to Monza, and do our very best to make up for the points we missed out on here at Spa."
Lotus
Kimi Raikkonen: "I had a brake failure so there was really no point in trying to continue. We both got good starts off the line but there wasn't enough space into the first corner where I went over the kerb and lost some time, but after that I was pushing as hard as I could. There were some brake issues at the beginning of the race but we were managing them and it was going okay until we had to retire. We've finished a lot of races and had some good reliability; one day your luck has to run out and today was that day."
Romain Grosjean: "We had a difficult first lap where we lost a few positions and then dropped back a couple more places in the incident with Sergio [Perez]. We decided on a one stop strategy today and with the new tyres I felt that the grip was much higher than before but I knew that it would be difficult to get the time back. We tried something different and you never know; had it rained in the middle of the race we could have been well-placed to take advantage.
"It is good to finish the race without any mistakes, even if eighth place isn't what we were hoping for this weekend; it's also a shame that Kimi didn't finish the race, but we go to Monza hopeful of better things."
Mercedes
Lewis Hamilton: "I got everything that I could out of the car today but we just weren't as quick as Sebastian and Fernando. I made a nice start and it felt like the exit out of turn one was good, too. But Seb just caught me on the run out of Eau Rouge and there wasn't really much I could do to defend: I moved once, like we are allowed to, but then I just had to watch him glide by. From that point, it was very difficult to hold on to him, and the same thing happened with Fernando, too, later in the race.
"We have done a good job this weekend but Spa and Monza are always unique tracks because of the low-drag requirements and I expect we will be more competitive in Singapore again. It's still a great team result to finish third with Nico right behind me in fourth, so we will take the positives from this afternoon into the next races.
Nico Rosberg: "Fourth place was a reasonable result for me today, and it's great that we achieved a strong points finish for the team with Lewis' third place as well. The whole weekend hasn't gone perfectly for me and you are always slightly on the back foot in the race when qualifying doesn't go as well as planned.
"I had a great start but I wasn't able to go as long as planned on the second stint and I had to cover Felipe. But in the end, it was nice to keep Mark behind me and get fourth place. We have a lot of work ahead of us now and we need to look into why we weren't as competitive as a couple of the other teams today."
Sauber
Nico Hulkenberg: "I was able to improve a couple of positions at the start. It was tight but I managed quite well. I had a good first lap, but the pace was missing pretty much from the beginning. The car was difficult to drive. We were lacking a good balance throughout the whole weekend and during the race, and the tyres started to go off pretty quickly. We had to pit earlier than planned. Overall, we were simply missing speed today."
Esteban Gutierrez: "From where I started I had to make progress and be clever about how much I could push. It was a matter of finding the right balance between pushing and taking care of the tyres, and I found that balance pretty well. I just focused on being as quick as possible, trying to manage the tyres well and getting the most out of the car. We lost a lot of time in the first stint with the traffic I encountered as I was coming from the back of the field.
"The strategy we planned was not ideal, so we had to change it and that still wasn't perfect. I totally respect the FIA 's decision to penalise me for overtaking Pastor, but I don't agree with the penalty. To be able to fight and to extract the maximum today is good to know. Now we have to improve in qualifying, because I think with the pace we have we can still fight for the top ten."
Sauber
Adrian Sutil: "An interesting and exciting race, and it's good to come away with two points. At the start I didn't make the best getaway and lost a few places, but after that I settled into the race and was able to get ahead of a few cars and move into the top ten. I always enjoy driving here at Spa and I had some exciting overtaking moves today, which felt very nice.
"The two-stop strategy was the best way to go and it worked out well because I think we achieved the maximum that was available to us. We are still in a close fight with McLaren so it was important to get back in the points today after a couple of tough races."
Paul Di Resta: "I got a lot of wheel-spin at the start of the race and was down in about tenth place going into turn one, but during the first lap I managed to recover to seventh. After the second pit stop I was racing closely with Adrian and there was a train of four cars battling as we went into the final chicane. Pastor [Maldonado] went in deep and missed the apex so I tried to get the cut-back and was going around the outside of him.
"He then decided to try and enter the pit lane, which was impossible given his track position. As a result he hit me, which took the rear corner off my car. It's a real shame because the speed was quite strong today and I think there was definitely a point or two up for grabs."
Williams
Valtteri Bottas: "Today's race was not the easiest for us. We were struggling for pace in sector two and this made it difficult to get close to the cars in front and once I had been overtaken it was very difficult to regain the place. We will have to go away and understand why our race pace was not as strong today as it has been and try to make improvements in time for Monza."
Pastor Maldonado: "I had a good start and I immediately picked up a number of places, but we struggled for pace in the second stint and I was not able to push and overtake the cars in front. I then had a collision with Di Resta in the final corner when our lines crossed as I was entering the pits.
"It was a difficult situation because I was fighting hard with the Sauber and I didn't see Di Resta on the outside as I turned toward the pitlane. I tried to brake to avoid the accident but it was too late. It wasn't a good weekend for us but we need to keep working hard and improving the performance of the car."
Toro Rosso
Daniel Ricciardo: "It was nice to get that point! We ran a long first stint on the Hards and I think that helped us build a good base to have a strong pace in the final stints on the Medium. I felt much more comfortable on the Option tyre and that's when my race really started. With the last set of tyres I was knocking out maybe ten or so qualifying laps and managed to pick off some cars in front to bring home that crucial point.
"We knew we had to move on from yesterday. I had said that starting where we were, getting in the points would be good, so I'm happy with that and with the pace we showed while fighting to get there."
Jean-Eric Vergne: "I think we could have done a bit better than this twelfth place, because my pace was good until the final stint when I had a slow puncture almost right from the start of it, which meant my performance dropped off. I managed to get past Hulkenberg with an exciting move, but I could not close to Perez ahead of me and then my team-mate Daniel came up behind me on new tyres. It was hard for me to be competitive therefore in the final stint.
"A bit of a weekend to forget as it could have ended so much better, if we had not made a mistake in qualifying, but at least when things were going well it seems that our car has picked up some speed that was lacking just before the break."
Caterham
Charles Pic: "We started on a set of options and I was off the line cleanly with no problems on lap one. I passed both Chilton and Bianchi and by lap eight was catching my teammate but then I was told to box as we had an oil leak so we stopped the car to avoid any damage to the new engine we used today. Racing's sometimes like this - we had good pace on Friday and Saturday, the car felt well balanced and we'd made some progress. While today's race obviously didn't go to plan I'm not down about it - we have another chance in Monza in two weeks to continue to build on the gap to our nearest rivals and I'm sure we'll bounce back there."
Giedo van der Garde: "My start was good. I had clear space going into turn one and held 14th place until mid-way through lap two, but then it wasn't really possible to hold off some of the cars who'd started behind us. Realistically, we'd expected that to happen so I was focused on pulling away from Bianchi and Chilton and giving myself a big enough gap to manage the race we'd planned.
"I'd started on a set of mediums which we managed well. My first stop was on lap 15 when we went onto a set of new hards and I rejoined in 19th. That set was also working well until about lap 26 when the rears started to go off so we pushed for another couple of laps and then came in for the second stop on lap 29. The final stint was on another set of hard tyres and from there I was well clear of both Marussias and had a really good fight with Maldonado for 16th right to flag, pushing as hard as I could to keep that place.
"Overall this has been a really good weekend. It would have been interesting to see what would have happened if it had rained today, but for what was effectively my first home F1 race I think we got the maxi um for the car. Saturday was an incredible feeling and I'm really pleased we could give the team, our partners and the fans such a lift in quali - now we have to make sure we can do the same for the rest of the season whenever the chances come our way."
Marussia
Jules Bianchi: "It was a tough race today, made more difficult by the fact that I had a radio problem from the start. Our pace was not as good as we hoped for, which was a shame. Although it was going to be hard to hang on to our grid positions if it didn't rain, we were looking for something more after a good result yesterday.
"As it remained dry we were not presented with the sort of opportunities we were hoping might come our way. However, we did get a two-car finish and also we continue to hold position in the championship, so we will now look to Monza for more of an improvement we hope."
Max Chilton: "A long race today, not just in terms of laps and lap distance, but more the fact that the dry conditions made the race quite uneventful for us. The threat of rain meant that we had thought through and prepared for so many different scenarios, so we would be in a position to capitalise on any opportunity to move up the order, but as it turned out much of the homework was not required.
"So we're disappointed with the race but encouraged by signs earlier in the weekend and I hope we can make more of those in Monza in two weeks' time."