Jenson Button failed to score the podium finish he had hoped for at the Belgian GP
McLaren star finishes sixth after failed attempt to one-stop
By Mike Wise
Last Updated: 25/08/13 7:22pm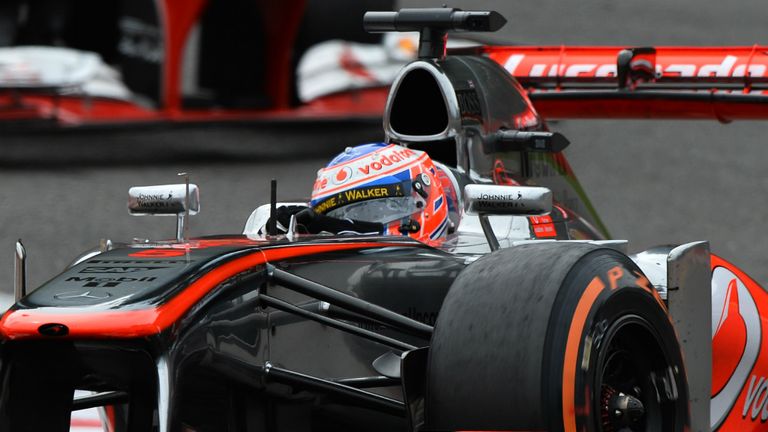 Button actually ran in third place for much of the 44-lap race but that was more a result of McLaren's attempt to run him on a one-stop strategy than their MP4-28 car suddenly having the speed of those of Red Bull, Ferrari and Mercedes.
The attempt ultimately failed - McLaren changing their minds regarding the best strategy more than once during the race, as Button explained to Sky Sports F1 after eventually finishing sixth.
"We stayed out longer in the first stint and were looking to do a one-stop but I think we got a little bit nervous when everyone pitted. We lost a bit of time and were overtaken by the cars that pitted already," he said.
"So we pitted a little bit earlier than expected, went for a two-stop and then tried to go back to a one-stop at the end of the race. But it wasn't to be, so we pitted and came home sixth."
Button reckoned that McLaren could perhaps have delivered more on a track where he won from pole position 12 months ago but is hopeful the Italian Grand Prix will be be a different story.
"It's not the result we wanted but we were fighting a lot more with the cars in front, which was nice. There was a Red Bull just in front and we were 13 seconds behind third place, so it's a definite improvement," he added.
"We should be happy with the progress we've made but there are a few things we expected to have here that we don't have in terms of performance.
"I'm really hoping we can work hard over the next two weeks and find that potential because the pace is there I think."
Neither Button nor team-mate Sergio Perez, who finished 11th after picking up a drive-through penalty, has yet to finish on the podium this season.
Even so, Sunday's result means that McLaren have at least overtaken Force India and taken fifth place in the Constructors' Championship.
"We didn't quite get it right. We were erring towards a one-stop and in the end, rightly, we changed," Team Principal Martin Whitmarsh said.
"But we didn't get it that badly wrong and Jenson did a great job. If a one-stop could have worked, he would have made it work and we might have got a podium."