Ferrari insist Spa step forward gives hope that they can still hunt down Red Bull
But Domenicali makes clear they have to kick on from here
By James Galloway
Last Updated: 26/08/13 1:20pm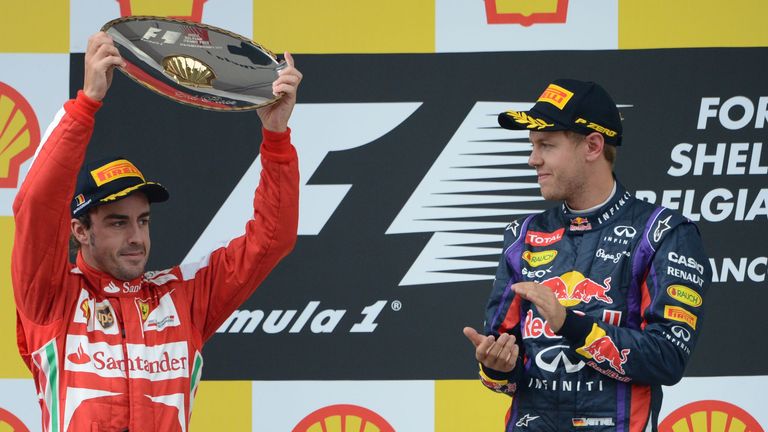 The Scuderia had targeted the consecutive high-speed challenges of Belgium and Italy as the places to return to form after several off-colour races prior to the summer break, particularly as the two events require bespoke low-downforce packages.
Although Ferrari suffered qualifying disappointment at Spa on Saturday when they lost out on a drying track in Q3, Alonso aptly demonstrated in the race the promise the F138 had already shown when he surged through to second place, although tellingly he still finished 16.8 seconds adrift of Vettel.
Although moving back ahead of Kimi Raikkonen in the Championship standings to second place, Alonso heads to Ferrari's home race at Monza 46 points - effectively the equivalent of two race victories - behind his long-time Red Bull rival with just eight races remaining.
Nonetheless, Ferrari's Team Principal Stefano Domenicali believes it is important that the team have shown they are 'back on track' - although he stressed it was imperative that they now kicked on from here.
"It's not only important for Fernando, who for sure deserved a very good car, but also for the team because they've been working very hard to make sure that we are able to fight until the end of the Championship," he told reporters when asked about the importance of Ferrari's step forward in light of Alonso's evident frustration in Hungary.
"We had a very bad July for very many reasons and I'm very pleased to see that we are back on track - but it's not enough. If you want to make sure that we are able to arrive at the end [of the Championship] we need to have another step with the performance of the car and this is what I'm expecting from my team. This is what honestly at home everyone is trying to do, as best as they can."
Domenicali, who confirmed that some of the parts introduced onto the car for Spa would have carry-over benefits beyond Monza, said Ferrari just had to keep the pressure on Red Bull, and alluded to the situation from 12 months ago when Alonso saw a 40-point advantage wiped out in the space of five races by Vettel.
"For us it's important to keep this back, the trace of improving the car," the Italian reiterated.
"We saw that Red Bull has improved and we need to stay there because we can beat them by improving the car better than them or being there in case an opportunity may come because they may have a problem. Don't forget last year..."
Alonso himself was also keen to draw parallels on Sunday night with the swift turnaround in fortunes he suffered at the hands of Red Bull after the summer break in 2012, with the Spaniard also buoyed by the way Ferrari have got out of their recent slump.
"We understood the problem, we analysed everything and all the things that we are now bringing to the races are delivering what we expected, finally, so this gives us the possibility to get our good form back but we still have to recover some of the gap, to fight for pole positions etc but the Championship is very long, and as I said before, the example is what happened to us last year," the two-times World Champion said.
"If you have a competitive car and you win four or five consecutive races like Sebastian did last year in India, Japan, Singapore etc, you recover very quickly. If we are in the position to do that, we will find out very soon."