2014 Belgian GP Practice Two: Lewis Hamilton turns up the wick to set Spa pace
Flying Hamilton pulls six-tenths clear of Rosberg; World Champ Vettel misses P2 after engine problem; Maldonado crashes on first timed lap
By James Galloway
Last Updated: 23/08/14 7:48am
Lewis Hamilton laid down the gauntlet for his latest likely battle for victory with Nico Rosberg at this weekend's Belgian GP by setting a dominant pace in Practice Two at Spa.
For the sixth P2 session in succession, it was the chaser in the all-Mercedes title duel who ended the opening day of a race weekend with the fastest time as the two Silver Arrows once more held sway around the long, sweeping Spa lap.
Hamilton, fresh from a post-P1 pitlane soaking after taking on the ice-bucket challenge, was on red-hot form during the afternoon session's qualifying simulations and his lap of 1:49.189 was over half a second quicker than Rosberg's.
"The car felt pretty good. It's good to be back, I'm sure I'm going to feel something tonight or tomorrow," Hamilton told Sky Sports F1. "But it's definitely good to get back into the car, it didn't feel so good in the morning but it was better in the afternoon. We still have some work to do."
Although Rosberg, the 11-point championship leader, did lose some time by running slightly wide at the top of the hill on his best lap, Hamilton's overall lap – and general pace through the session - was clearly superior to the point where only one non-W05 runner was able to get within one second of him.
That man – impressively so – was Fernando Alonso who lapped just a second adrift of Rosberg in his Ferrari despite the top positions on the timesheet predictably being dominated by Mercedes-powered cars on one of F1's fastest tracks.
After a quiet morning, much-fancied Williams began to show their hand with Felipe Massa and Valtteri Bottas sandwiching McLaren's Jenson Button in fourth and sixth places respectively.
Spa's famous layout, and the 7km circuit's first and final sectors in particular, had been expected to present a challenge for World Champions and Hungarian GP victors Red Bull, but even so their Friday afternoon was particularly troubled as Sebastian Vettel missed the entire session and Daniel Ricciardo finished only eighth, 1.7 seconds off the pace.
Vettel's latest bout of 2014 misfortune was triggered by an electrical issue in P1 which caused wider damage to his RB10's Renault engine. With a change of unit required, Red Bull's mechanics were never going to complete the work in time to get the German out for the afternoon. Furthermore, the change of unit is set to push Vettel precariously close to his penalty-free engine limit for the season.
Still, spare a thought for Pastor Maldonado's sustained plight. After being involved in numerous incidents up to the summer break, the Venezuelan, still scoreless for Lotus, crashed out on his first time lap in P2 after running wide on the entry to Pouhon.
The force of the impact into the barriers - the E22's front suspension was ripped off in the crash - meant Maldonado was taken to the circuit's medical centre for precautionary checks but the driver was given the all-clear.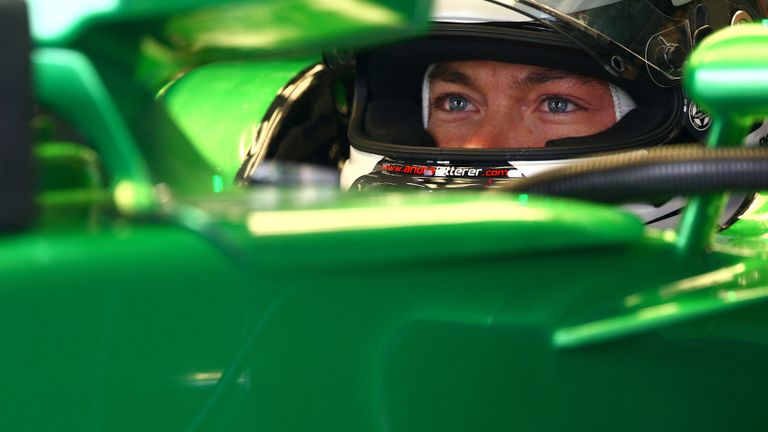 In sharp contrast to Vettel and Maldonado's woes, a more uplifting story continued to develop at Caterham where their 32-year-old F1 debutant Andre Lotterer completed an impressive race weekend bow by lapping within half a tenth of the team's regular race driver Marcus Ericsson. Having not driven an F1 car for 12 years – let alone his new team's current CT05 – the German sportscar driver made no significant errors of note to finish close behind both Ericsson and Max Chilton, who returned to his Marussia after his swift reinstatement to his race seat.