Bad weather in Brazil meant Pirelli couldn't run a prototype version of next year's tyre
Italian firm now hopes to test next month - but which car will it use?
By Mike Wise at Interlagos
Last Updated: 22/11/13 9:28pm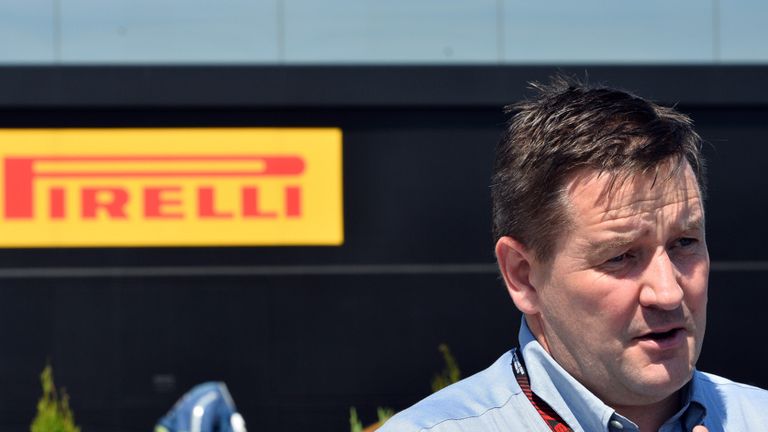 The wet conditions affected both practice sessions, with drivers running both full wet and intermediate tyres in preparation for Sunday's race but not the 2014 rubber.
Sebastian Vettel did venture out on the slick tyre for a single lap during the morning but the consensus was that little or nothing would have been gained from the exercise.
With pre-season testing for 2014 now just a couple of months away, Pirelli have decided to conduct a private test in Bahrain next month. Yet the decision about which car to use appears, once again, to be thwarted by teams' concerns over competitive advantage.
"It's just an opportunity lost. That's life; there's nothing we can do about it and nothing the teams can do about it," Pirelli Motorsport Director Paul Hembery said of Friday's outcome.
Regarding which chassis to use next month, he added that Pirelli "have a number of opportunities". Rules state that the company must use a two-year-old car but they have also tested with cars bought from Toyota and Lotus.
"It's our own private test and we have the okay from the FIA to do it," Hembery said. "If we have to buy a car, we'll buy a car. We've done it in the past. We're just doing our work."
Also speaking on Friday, Mercedes Team Principal Ross Brawn expressed doubt that teams would reach agreement about running a car in Bahrain.
"I think we're in a very delicate position," said Brawn, whose team were penalised by the FIA earlier this year after they loaned a 2013 car for a Pirelli tyre test.
"I think we all want to help Pirelli provide the best tyre they can next year but it would be unfortunate if one team had the benefit of running a tyre to the exclusion of all other teams."
With such a major rule change now so close, Hembery acknowledged teams' concerns that rivals might gain an advantage.
"All the teams can send an observer and the data will be managed through our own people," he stressed.
"[But] we also have to appreciate their concerns of sporting equity and finding a midway solution has been the difficulty over the time."
The compounds and structure of next year's tyre - which must cope with a far greater amount of torque transmitted through new power units - have not yet been finalised.
However, Hembery did reveal Pirelli's intention to reduce the number of marbles seen at some races after complaints from drivers.
Fears have also been expressed that the tyres will be too conservative but Hembery added that the reality will probably only be revealed when teams return to Bahrain for pre-season testing in February.
"I don't think we can say anything until we're running in Bahrain. Maybe we think we're being conservative and it's still too aggressive," he said.
"But you'd imagine we'd prefer to be a little more conservative with so many unknowns."