Brawn: We weren't bluffing
Ross Brawn insists Mercedes really didn't know how their tyres would hold up after they confounded expectations by stopping just twice to win in China.
Last Updated: 15/04/12 12:53pm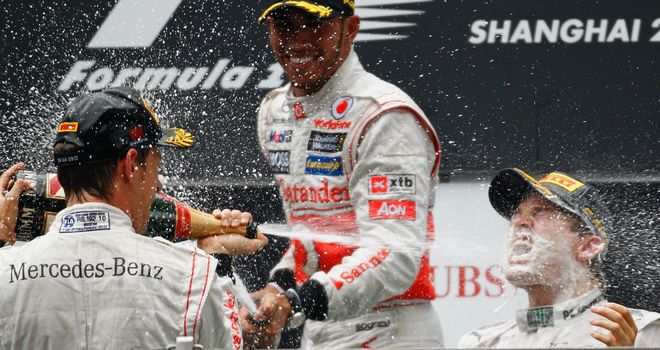 Ross Brawn has admitted Mercedes truly didn't know how their tyres would perform over a race distance after the team confounded all expectations by stopping just twice to win the Chinese Grand Prix with Nico Rosberg.
Although the team capitalised on their season-long single-lap pace to lock-out the front row on Saturday, most observers expected the silver cars to drop back in the race owing to difficulties with race pace in both Australia and Malaysia.
However, although the team lost Michael Schumacher through a botched pit-stop early on, Rosberg eased away at the front despite the McLaren drivers moving up to be his nearest challengers. Then, while Jenson Button and Lewis Hamilton stopped three times, Mercedes opted to complete just two stops with Rosberg which proved to be a race-winning call.
Mercedes had downplayed their own race chances ahead of Sunday but speaking to Sky Sports F1 Brawn after the victory, Team Principal Brawn said the team really hadn't been bluffing.
"No, really you just don't know [how it will go]," he said. "All our numbers showed that we could just about do a two-stop if the drivers looked after their tyres and as you saw the guys who did a three-stop got caught up [in traffic].
"But to do those two stop was a very narrow windows to make it work and Nico did a fantastic job."
Mercedes had expressed confidence that the situation would be better this weekend after using the three-week break between races to work on understanding the tyre issues, but Brawn says the fact the weather proved consistent over three days in Shanghai meant the team could make some serious on-track progress.
"I think that the important thing for us at least was the consistency of conditions over Friday, Saturday, Sunday," he said. "We could really get the car tuned in. Friday the car wasn't in great shape and we looked a bit off the pace on high fuel on Friday.
"But the engineers and drivers did a great job and they definitely found more pace in set-up between Friday and Saturday. We ran high fuel Saturday morning and the car looked a lot better.
"So you never know until the race starts and to see the car easing away was a very special moment."
Having claimed just three podium finishes in the team's first two seasons under Mercedes ownership, Brawn admits the breakthrough success - the first for the German manufacturer as a team owner since 1955 - ranked as one of the sweetest wins of his championship-laden career across stints at Benetton, Ferrari and his own Brawn GP outfit which morphed into Mercedes.
"Very, very special day," he said.
"I've been lucky to have a few and this definitely ranks up there as one of the best days."
He added: "A great, great bonus for everybody. Everyone in our team at Brackley and Brixworth who have stuck with this project. And of course we are Mercedes and we've got a lot of people at Stuttgart supporting this project."
A jubilant Norbert Haug, Mercedes Motorsport President, added: "It feels sensational. Thanks to the guys they worked so hard, they believed in us and Ross kept it all together so thank you."