Rosberg never doubted himself
Nico Rosberg says he never doubted he would eventually win races in F1 after finally breaking his duck six years into his career in China.
Last Updated: 16/04/12 10:56am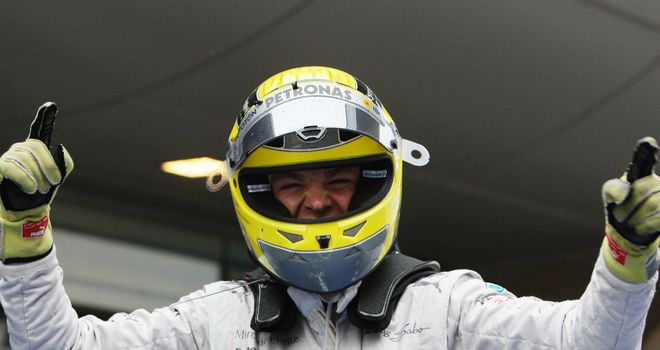 Nico Rosberg says he never doubted his ability to win races in Formula 1 after finally earning his breakthrough success in sensational type in Shanghai on Sunday.
The German driver had gone 110 races without either a pole position or race victory prior to the start of the Chinese Grand Prix weekend, with many questioning whether either milestone would ever come - particularly in wake of a disappointing start to the season.
But after a stunning qualifying performance saw him take pole by over half a second, Rosberg expertly controlled the race, and his W03's tyre wear, throughout the 56 laps to make a bold two-stop strategy work and win by 20 seconds from McLaren's Jenson Button.
Speaking in the paddock afterwards with Sky Sports F1's Simon Lazenby, Martin Brundle and Johnny Herbert, Rosberg admitted it had been an unexpectedly perfect weekend.
"Fantastic. It's been an amazing weekend - the whole thing," he said.
"Everything's just gone perfectly; qualifying, race. I really didn't know what to expect. Friday we weren't quite as strong as today yet but we improved the car further and we've been improving the last few weeks.
"Ongoing progress and that's great to see how fast we're able to improve also. It's a fantastic result and I'm pleased for everybody. It's been a long time coming now for all of us, the whole team."
While Mercedes had gone 40 races without a race victory since taking over the championship-winning Brawn GP team for 2010, Rosberg last took to the top step of a podium during his GP2 title-winning year in 2005. Yet asked if he had ever doubted himself in the intervening years, he replied: "No, I was convinced that my time would come when the car is ready. And today was the day."
Current rivals Jenson Button and Mark Webber also had to wait over 100 grands prix before breaking their F1 victory ducks and have since gone on to become multiple race winners - something Rosberg is now hoping he can emulate.
"Niki [Lauda] just said, from now on winning gets easy. So if that's the case I'll take it - he must know!" he added.
With three-stopping rivals Button and Hamilton getting caught up amongst two-stopping cars driven by Kimi Raikkonen and Sebastian Vettel in the closing stages at Shanghai, Rosberg admits it was difficult to keep track on who exactly his nearest rival was.
"Every lap there was someone else behind me and I was like 'what the hell's going on?'" he said.
"I thought there'd be one guy chasing me down or something and it was just changing every lap."
But although the win signals an overdue breakthrough for both driver and team, Rosberg warns that Mercedes can't expect to be leading the way on race pace in a week's time in Bahrain.
"For sure we need to be careful. In qualifying we'll be strong in Bahrain - that's been pretty clear now from all the past races," he said.
"Race? Who knows. Even today, to predict our performance was impossible. I really didn't know what to expect, so Bahrain with temperatures being hotter, we don't know.
"But for sure we're progressing. That's important and we're doing much better, but if it's enough for Bahrain I don't know."