Nico Hulkenberg says drivers' concern over unpaid salaries won't lead to strike action
"We are trying to work on this issue," Hulkenberg declares
By James Galloway in Shanghai
Last Updated: 17/04/14 9:09am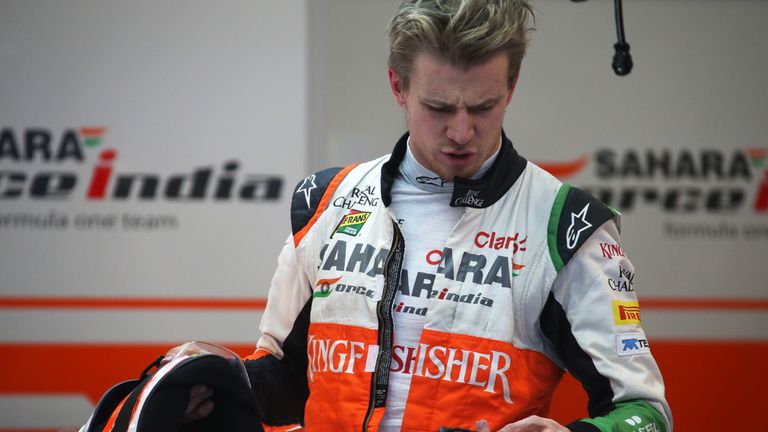 The German is one of several drivers on the grid who are reputedly owed money by employers of past and present and reports in his homeland this week had suggested that members of the GPDA, the drivers' union, had signed a document vowing to strike if money owed to its members remained unpaid.
However, speaking in the Shanghai paddock ahead of this weekend's Chinese GP, Hulkenberg said that although drivers had been talking about the issue of unpaid wages with understandable concern, the prospect of strike action wasn't on the agenda.
"It is an issue which we have been discussing in the GPDA. It's not something we like, and in the pinnacle of motorsport it is not good to have, and we are trying to work on this issue," Hulkenberg told Sky Sports News.
"In the media, there have been reports of striking, but that is not what we have discussed in the GPDA. Yes, we have talked about the issue and we want measures against it, but a strike is not a possibility."
Amid a tight financial squeeze for the grid's less-well-funded outfits that has been ongoing for several years, then-Lotus driver Kimi Raikkonen famously revealed last season that "I haven't been paid a single Euro this year" prior to his departure to Ferrari.
Hulkenberg, who also experienced payment issues with his former employer Sauber, said it was vital that the sport as a whole found a solution to the growing trend.
"I don't know [what can be done], but that's what we're working on," the Force India driver told a later press briefing.
"We all need to stick the heads together to see what we can do and come up with a solution."
Asked if he was directly affected by the problems, Hulkenberg implied that outstanding issues remained with his former team.
"No, not at moment. My current team is pretty good with that," he replied.
"But I still had and have some issues with that as well."
Lotus's Romain Grosjean was another driver named as being owed money by his team, but asked if he was still awaiting payment, the Frenchman on Thursday revealed: "Not any more! Since the new management has been in place everything has been sorted and good."