Lewis Hamilton believes Bahrain's 'race of century' has 'done F1 the world of good'
Hamilton could clinch a hat-trick of victories this weekend in Shanghai
By Pete Gill & James Galloway in Shanghai
Last Updated: 18/04/14 2:39am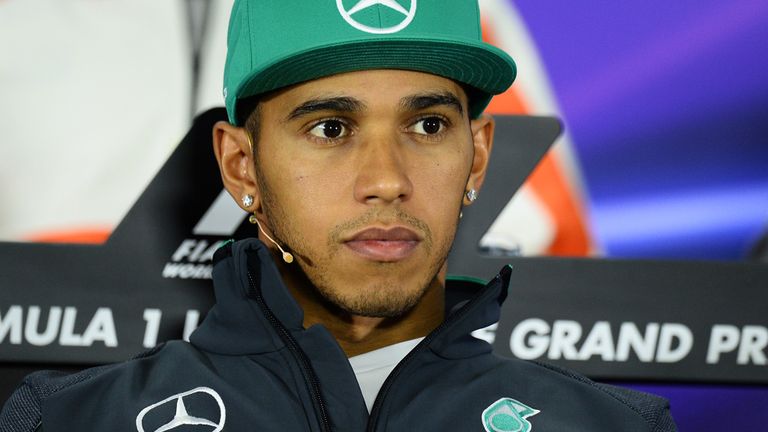 Hamilton's thrilling battle for victory in the desert two weeks ago with team-mate Nico Rosberg has been billed as 'the race of the century' with their race-long duel just the tonic to a backdrop of sour politicking and foot-shooting 'Ratnering'.
Even if the W05 is in a different class to the rest of the field, few will bemoan the extent of Mercedes' domination if the Rosberg v Hamilton dogfight continues to be as enthralling as it was in Bahrain when the team-mates, now turned title rivals, repeatedly pitched their cars into wheel-to-wheel battle around the Sakhir circuit in a no-holds-barred fight for victory.
Hamilton, chasing a hat-trick of victories this weekend in the Chinese GP, watched a re-run of his triumph at the weekend on a family visit to England, and is still basking in the afterglow of a win that has grabbed the attention - and acclaim - of the public ever since.
"Every person who I've met afterwards, be it at the airport or the supermarket, has been ecstatic and excited about the race," Hamilton told Sky Sports News.
"Even at the airport when I came here, a guy came over and he was still buzzing from the last race saying it was 'the best race I've ever seen', so that's cool. I'm sure it's won over some more fans who weren't previously interested so I think it has done the world of good for the sport."
Runaway championship leaders Mercedes have already proved their mettle in a range of contrasting conditions this season, from the Australian autumn to the searing heat of Bahrain, but while the power-hungry Shanghai International Circuit is expected to play to the strengths of the W05, the dark cloud on the horizon this weekend, threatening to blot their otherwise impeccable landscape since the dawn of F1's new era, is the threat of rain for both qualifying and the race.
"When you have a win it's great, but it then resets for the next race. It's a strange feeling: I am coming here more energised than ever to win this race. It's a massively challenging circuit and we don't know what is going on with the weather and hopefully we'll be competitive," added Hamilton.
With even Mercedes' rivals on Thursday accepting that the sight of the two Silver Arrows at the front of the field is all-but certain to continue in Shanghai, Rosberg is gearing up for another direct duel with his team-mate.
"Well if I had a choice I would say preferably not, I would prefer just going off into the distance in the front! But it's more likely that it's going to be a close-fought battle, which is also okay," the German said.
"It was a big thrill [in Bahrain], not during the race, but after the race it was and a really enjoyable fight. That's what racing is about."
Although the German triumphed at the season-opener in Australia, and still holds an 11-point championship lead over his team-mate heading into round four, Bahrain was the second time in a row Rosberg had lost out to Hamilton for the race victory.
Yet despite being unable to find a way past the sister W05 even after numerous advances, Rosberg, who also watched the thrilling race back, feels he could have done no more.
"In hindsight for me I found that I attacked quite a lot and went for it even when I was not even close in a position, I just dived down the inside and gave it a go," he insisted. "So I thought my attacking mode was pretty much there and anything more on more than one occasion meant that we don't finish the race. But of course it's something I will keep adapting."
And asked if Mercedes' current level of dominance had already left him believing that the 2014 championship fight represents a 'me or him' contest, Rosberg replied: "Yes, but race on race for now. It's just Shanghai now. I know I can win here, I know I have a chance to win here and I know most likely it's going to be me against Lewis. So that's where my mind is at the moment."
In a year of uncertainty, and considerable off-track upheaval, the prospect of Mercedes remaining competitive after kicking off 2014 with three successive victories is the one certainty that the Chinese GP, exclusively live on Sky Sports F1, can be expected to deliver.