Sebastian Vettel says 2014 a 'big challenge' so far but hopes for better in China
But German admits Mercedes remain big favourites for race four
By James Galloway in Shanghai
Last Updated: 17/04/14 1:48pm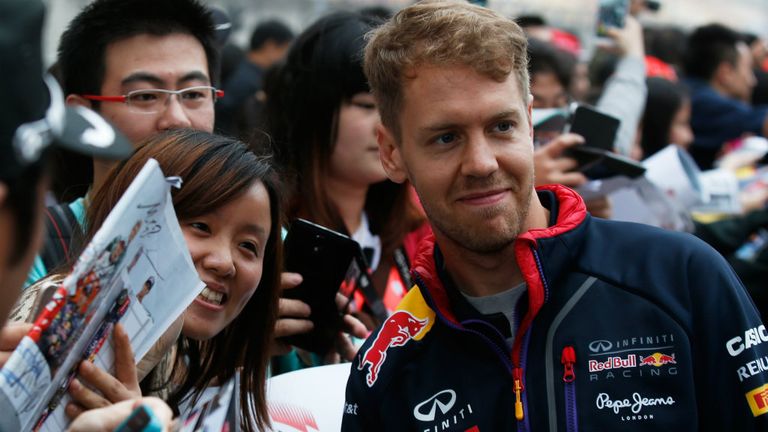 After their first three race weekends alongside each other as team-mates it is Vettel, F1's quadruple World Champion, who surprisingly trails in the Red Bull head-to-heads after Ricciardo outperformed him in qualifying and the race in both Australia and Bahrain.
Although Vettel has been able to point to problems with his car on both of those two weekends in question, the German said after Bahrain that he didn't want to hide behind excuses in the wake of being overtaken by Ricciardo for fourth place late on.
In turn, Red Bull's own fall from the top of the F1 pecking order at the start of the new turbo era, means that Vettel's best result so far in 2014 is a third-placed finish - a far cry from the nine successive victories he reeled off at the end of last season.
Mercedes' early-season dominance means Vettel trails Nico Rosberg by 38 points in the Drivers' Championship already, but asked in the Chinese GP paddock on Thursday how he had found the start to the season, Vettel said it was his feelings in the car rather than the new reality of Red Bull's competitiveness that had posed the greatest headache.
"Big challenge," he replied. "Not so much probably what people expect in terms of results, I don't mind finishing fourth, sixth or eighth.
"But it depends how you finish, that seems to be the biggest challenge right now. Not where I want to be yet in terms of how I feel inside the car but then again we've had a lot of rule changes, there's a lot of new stuff to play with and adapt to. Obviously we're still learning as well with the car. That seems to be the biggest challenge right now."
Ricciardo's disqualification from second place in Australia and subsequent retirement while running behind Vettel in fourth in Malaysia means the German still leads their intra-team points battle, by 23 points to 12, but it is the more inexperienced driver whose performances have garnered the most headlines.
Asked if he was surprised by the competitive start the 24-year-old had made to life at the team following his winter transfer from Toro Rosso, Vettel replied: "Not surprised, but I'm happy for him. He's doing a very good job.
"Obviously we both try to do our best. On my side I'm not yet where I want to be, there's probably a lot of reasons behind [that], but it's good to see him pushing hard and it's also good to have a benchmark."
Despite their status as F1's dominant force of recent years, Mercedes currently represent 2014's clear benchmark with the Brackley outfit chasing a fourth successive win at the start of the season - a feat not achieved by anyone in nine years - in China this Sunday.
Vettel is hopeful a positive post-Bahrain test will allow Red Bull to start closing the gap to the front but concedes that with such a head start, Mercedes may remain unstoppable for now.
"It's a big gap at the moment. Bahrain obviously was very bad for everybody but Mercedes. I think here it will be a little bit different," he said.
"Historically you have to say though and admit that this is one of the circuits that favoured Mercedes the last couple of years. We expect them to be strong because of the nature of the track. They are in very good shape right now.
"So it will be difficult, they are the favourites going in, but for us I think we made some improvements at the test. We made some improvements with the car but also the power unit. So we should expect a step here, but how big we have to wait and see.
"Surely it would be a massive surprise if we could close down the gap here. You have to be realistic and know that the results of the first couple of races which is more or less a second per lap, and to close that in one go is hopefully not impossible - we wish we could do that! - but you have to stay realistic."
He added: "For us [the goal is] to try to be as close as we can. Probably if we can be in the top five that's good for us where we are."
And to underline just how fortunes at the front of the field have flipped since F1's winter 'rules reset', Red Bull team boss Christian Horner expressed hope that the great variable of rain - that has lingered in Shanghai so far this weekend and is currently forecast to return on Saturday - could mix things up.
"I'd love to get stuck in and take the fight to Mercedes so rather than them race each other we can get in between them," Horner told Sky Sports News.
"We've seen the weather change here, we won our first race here on a pouring wet Sunday afternoon back in 2009, so it would be great to have a bit of an equaliser here so we can take the fight to them."