Chinese GP Qualifying: Lewis Hamilton masterclass leaves Nico Rosberg in a spin
Hamilton dominates session; Ricciardo out-qualifies Vettel again; Neither McLaren makes it through to the top-ten shoot-out.
By Pete Gill
Last Updated: 20/04/14 6:27am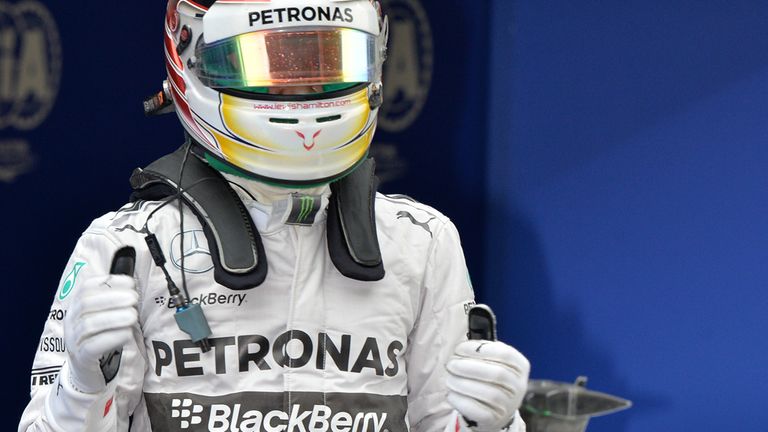 Rain is supposedly the great leveller in F1's contest of man and machine but as he surged clear of both Rosberg and the rest of the field, Hamilton made the slippery conditions around the Shanghai circuit look like child's play. Topping every session, Hamilton was as dominant as he was flawless before securing P1 with half a second to spare to set a new British record for pole positions in F1.
"It was a tough session but I really enjoyed it," said the Englishman modestly afterwards. "The car's feeling great. I managed to pull out a great lap and I love this track in the wet. I'm ecstatic.
"But while it's great winning and getting pole positions, I just want to win the World Championship. This is a step in the right direction but now we need to follow-through tomorrow."
Chasing a third successive victory and a second World Championship title, Hamilton is a man on a mission this weekend and seemingly driving better than ever.
The 2008 World Champion's incredible pace was certainly too good and too much for his Mercedes stable-mate Rosberg to live with. Twice the German tried to respond to his team-mate's early-benchmark time in Q3 and twice he came undone, running wide at the penultimate corner on his first run and then spinning on the start-finish straight to fall back to fourth on the grid.
"That was a masterclass from Hamilton," exclaimed Sky F1's Martin Brundle, "and that was ragged from Rosberg."
Rosberg later revealed that an errant reading on his steering-wheel display had told him he was two-tenths slower than Hamilton when he had in fact been quicker over the first two sectors.
Despite never threatening Hamilton's status at the top of the timesheets, only Daniel Ricciardo rivalled the Englishman for acclaim as the young Aussie, for the third time in four outings since he replaced Mark Webber, out-paced World Champion Sebastian Vettel by half a second to claim an impressive front-row berth.
Vettel admitted on Friday that he is still not comfortable with the RB10, but the thought is beginning to prosper that it is the aggressive pace of Ricciardo which is causing the four-time champion the most discomfort.
"It could be a big game-changer for Daniel's career," noted an approving Johnny Herbert. "He's starting to rattle the World Champion."
With the rain disguising their power deficiency, both Red Bulls will start ahead of Rosberg - more good news for Hamilton as he strives to catch his team-mate in the World Championship standings.
Fernando Alonso was fifth quickest, although there was nothing particularly quick from the Ferrari with the F14 T far adrift of the frontrunners. Kimi Raikkonen's struggles were even more pronounced, the Finn failing to make it through to the top-ten shoot-out after another inspired run by wet-weather specialist Jean-Eric Vergne in the Toro Rosso and the first hint of a revival from Lotus as Romain Grosjean claimed tenth.
For Grosjean's team-mate Pastor Maldonado, however, life in 2014 continues to go from bad to worse to outright calamity. After twice crashing on Friday, the South American didn't participate in Qualifying after breaking down in P3. Just to rub salt into what must be an open wound as Maldonado considers the wisdom of his decision to leave Williams, both of his former's teams cars made it through to the top ten.
Sometimes in F1, it never rains when it pours. The good news for frontrunning Mercedes is that a dry race is forecast for Sunday but, on the evidence of qualifying, there may be no stopping Hamilton whatever the conditions.
Sunday's race, exclusively live on Sky F1, starts at 8am UK Time.