A load of hot air
Events off the track threatened to overshadow the British Grand Prix. But is it right to assume that fans only care about the racing?
By Michael Wise
Last Updated: 13/07/11 2:51pm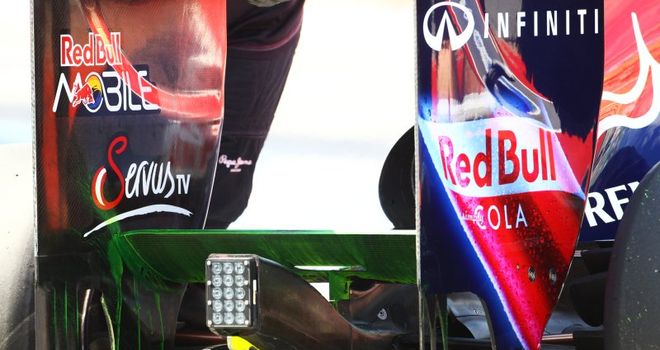 All in all, the British Grand Prix weekend was action-packed. The race itself was an absorbing contest shaped in part by the English summer, with reversals of fortune on the track - not to mention in the pitlane - giving a result which, while not the one wanted by the home fans, was certainly welcome in the context of the current season.
It also put the kerfuffle over the clampdown on the use of off-throttle blown diffusers in its place. At one stage, it seemed as though the FIA's to-ing and fro-ing as it tried in vain to provide an equitable solution to the problem might even overshadow the racing. Would that have been the case if Sebastian Vettel had led for the entire 52 laps?
With the governing body set to reverse its edict, it now seems that questions of whether or not Red Bull or McLaren might lose out, or that Ferrari might be the big gainers, are moot. If the whole thing did just turn out to be a big waste of hot air, then perhaps there's an irony in there somewhere.
Mark Webber, for one, wasn't impressed. "It's nonsense. Nobody really understands it. We don't know what's going on," he said after taking pole position on Saturday, when matters were reaching a head. "It's very boring for the fans. I am sure only 0.1 percent of the fans understand what's going on." He added: "Let's get on with the racing and keep the rules as simple as we can."
Sentiments expressed with typical forthrightness. But is he right? Basking in a warm glow of satisfaction having managed to get one over on the world champion - an all-too-rare occurrence this season, let's face it - we can give Mark some leeway where the figures are concerned. Surely, though, such concerns do not - cannot - bore F1 fans?
Racing is one thing - it's the main thing. But it's far from the only thing in a sport whose bedrock is innovation as well as competition. The sorts of innovations made by, say, Colin Chapman are, alas, a thing of the past and the rulebook is now so restrictive that engine development is effectively banned. But look closer and there's still plenty to stimulate.
Of course, a mass damper suspension system is never going to catch the imagination in quite the same way a six-wheeled car might, and even typing the words 'off-throttle blown diffuser' can provoke a kind of awkwardness: an embarrassment that something that sounds so dry is even vaguely newsworthy. Yet such concepts are as much a part of F1 as the 'thrills and spills' and fans will recognise as much, even if Bernie Ecclestone pretends not to.
One likes to think that Webber's barb was aimed more at the sideshow whose shutters sprang open on Friday when it became apparent that concessions granted to rival engine suppliers Renault and Mercedes on their respective off-throttle usage were causing friction. Such spats seem rarer in this era of team unity, and in this case it was the timing (between practice sessions) that seemed particularly to blame.
(Not that the creation of FOTA has necessarily guaranteed calm waters: the 2009 British Grand Prix was completely overshadowed by the teams' threat to breakaway in protest at the FIA's proposed budget cap. Incidentally, Vettel did lead that race from start to finish.)
One thing Webber is right about is the lack of understanding; let's face it, both the technology and the politics do share a certain impenetrability. Lacking an engineering degree, and with teams fogging the path further for their own reasons, it sometimes feels as though trying to understand the former is akin to watching one of those fast-moving 'Bourne'-style action thrillers, complete with jargon-filled dialogue and shaky camerawork. In other words, you don't really know what's going on half the time, but still get swept along by the spectacle and apparent cleverness of it all.
Trying to understand, then, is part of the fun. The same goes for the politics, although the thrall of the latter does tend to pale quickly by comparison. That aspect is inevitable, let's face it, and it has its place: in the shadow of innovation, which itself should come second to the sporting contest. It's a balance that F1 has struggled to get right.