Thrilled Kobayashi eyes first podium
Kamui Kobayashi says claiming the maiden podium finish of his F1 career is his top priority in Sunday's Belgian GP after securing his first front-row start.
Last Updated: 01/09/12 4:40pm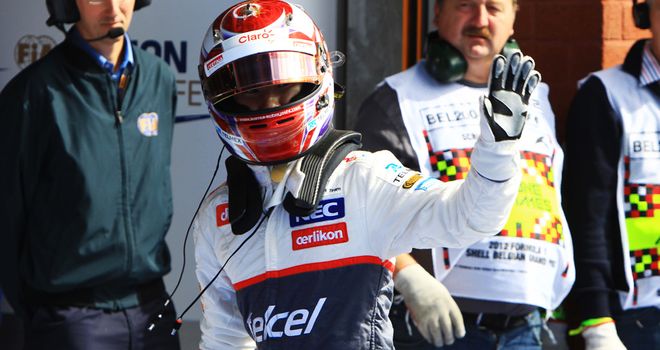 Kamui Kobayashi says claiming the maiden podium finish of his Formula 1 career is his top priority in Sunday's Belgian Grand Prix after the Japanese secured his first front-row start.
With Sauber having emerged as threat to the frontrunners in Practice Three, Kobayashi and team-mate Sergio Perez both made Q3 for just the third time this season with the former getting closest of anyone to troubling dominant pole-sitter Jenson Button on his sole flying lap in the session, coming up three tenths of a second short.
Kobayashi admits that while the team had been confident of a good showing this weekend owing to the circuit's fast corners, making the front row was unexpected given their far from stellar single-lap pace so far this season.
"Today even in the morning we had quite a good confidence in the car," he said in the post-qualifying press conference.
"Even if we know that Spa is one of our favourite tracks with our car we didn't expect to be second. Front row is really good finishing in the qualify[ing].
"We usually struggle in qualy and in the race I think we are not really worried. But this is where we want to improve [over a single lap]."
The Japanese, renowned as being a stronger racer than qualifier, says he will not let the notable career milestone make him lose focus on the bigger picture of the final race result.
"My best qualy of course, it's a great feeling, but I'm always focused on Sunday and not on Qualy," he said.
"So I think this is one of the good points but I want to focus more on tomorrow.
"We cannot get any points [for qualifying] so we will see tomorrow and I think if we can be on the podium then that's really something that we need to do."
Kobayashi, who qualified third at the Chinese GP in April only to fall back almost as soon as the race got underway, is aware that racing at the front is a completely different challenge to the ones he has generally been used to in F1 to date.
"Always [being in the] top three or top five is more difficult to battle," he added.
"If we're like P15 or something it's easier to do something. I think definitely [it] is a different story and of course we need to fight and be aware of tyre management."