Kimi Raikkonen overcame back problems to come through the field in the Singapore GP
Finn finishes third after starting 13th on the grid at Marina Bay
By Mike Wise in Singapore
Last Updated: 23/09/13 9:33am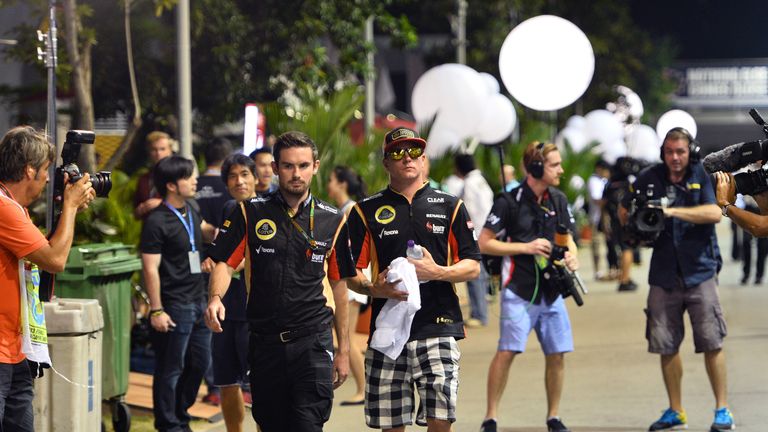 Raikkonen has been troubled all weekend by the injury, the legacy of a testing accident during his debut season at Sauber back in 2001. It was inflamed during Friday practice and his prospects for Sunday's race didn't look particularly promising after he subsequently qualified 13th.
Yet that's without throwing the race pace of Lotus's E21, the team's strategy calls and, above all, Raikkonen's stoicism over the jarring bumps of the Marina Bay street circuit into the reckoning. It was the longest race of the year as well, but the net result? A place on the podium next to race winner Sebastian Vettel and Fernando Alonso.
"Yes, I had some pain yesterday but for sure there have maybe been some more painful ones where something goes wrong," Raikkonen said afterwards. "It doesn't always have to be physical pain, there can be something...you don't finish the race which is more painful in a way.
"Other things sometimes happen like this weekend and you have to live with it."
Raikkonen not only lived with it, he made light of it. Hovering around the lower reaches on the top ten for the first half of the race, it came alive for him just as soon as Daniel Ricciardo's crash at Turn 18 brought out the Safety Car on lap 25.
He pitted alongside the likes of Alonso, Jenson Button, Sergio Perez and Nico Hulkenberg and while his future Ferrari team-mate finished one place ahead it was Raikkonen who ultimately made up the most ground.
Tasked with making his set of medium tyres last 36 laps, Raikkonen pursued Button as the McLaren driver attempted to do the same.
They gradually moved up the order as the cars ahead, which included the Mercedes of Nico Rosberg and Lewis Hamilton, plus Mark Webber's Red Bull, stopped again but the McLaren's tyres then started to fade.
The highlight of Raikkonen's race duly came when he passed Button around the outside of the tight Turn 14 right-hander on lap 54.
There was a slight scare when Webber closed up fast behind him on fresher tyres during the closing laps but a water pressure problem on the Australian's Red Bull put paid to his challenge.
"We had a plan and we know that, if the safety car comes, we try to go until the end," Raikkonen explained. "So I knew what will happen and luckily some other teams couldn't do it and had to pit.
"I was kind of stuck behind Jenson for most of the race but then I tried to give him some pressure and keep pushing him so I noticed that he started running out of his tyres and I could start to get in closer and closer.
"In the end I decided to try to pass him and managed to get past - because there were people who stopped for the fresh tyres who were catching very quickly but luckily once I got past I could push a bit more and keep the gap big enough to end it in third place."
Raikkonen now stands 98 points behind Vettel after the latter's latest, crushing, victory - but fading title hopes would have been the least of his concerns on Sunday night.
"After the weekend where we had some problems with myself and not the ideal setup with all those things and where we were yesterday, finishing third, I don't think we could have asked for much more," he added.
Yet as impressive as Raikkonen's performance was, it didn't tell the entire story from Lotus's point of view.
Team-mate Romain Grosjean was another driver to pit under the Safety Car and, placed right behind Alonso at the restart, the Frenchman was on course for the final podium spot.
However, Grosjean, who had qualified a strong third, suffered bad luck when an air consumption problem on his car eventually forced his retirement.
"It was an air leak," Lotus Trackside Operations Director Alan Permane confirmed. "The air valve system caused an internal leak in the engine. As a desperate attempt we tried to fill it up, but it just got worse.
"Romain would have been third without the problem."