Tio Ellinas won the opening round of the 2013 GP3 Series in Spain
Cypriot holds off late charge from Patric Niederhauser
By William Esler
Last Updated: 17/09/13 1:23pm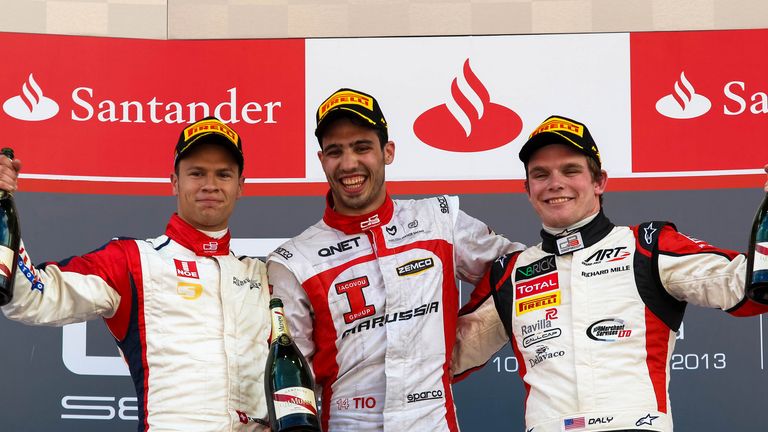 The Marussia driver started from pole and looked comfortable throughout most of the race after opening up a gap during the opening laps. However, that initial push took the life out of his Pirelli tyres and meant a tense final three laps for the Cypriot.
Indeed, tyre wear was to be the key factor in the race, with most drivers struggling in the closing stages, and is something the teams will have to work on during the remainder of the season.
After an action-packed opening few laps in which positions ebbed and flowed throughout the field, things started to settle down, at least by GP3 standards, on the fourth lap as the drivers entered tyre preservation mode.
Whilst his team-mate was leading, debutant Ryan Cullen went for a bumpy ride through the gravel at the end of lap six as the British driver pushed his car beyond the limits at the final corner. The other Marussia of Dino Zamparelli was also in the wars as he ran into Kevin Korjus whilst fighting for eighth. The Anglo-Italian removed his front wheel and got airborne as he retired from the race at Turn Five with three laps to go.
MW Arden will have work to do on their set-ups as their cars became mobile chicanes in the closing stages. Danil Kvyat and Robert Visoiu struggled to stay pointing in the right direction, let alone hold off the charging cars from behind.
What the team, co-owned by Mark Webber and Christian Horner, would have given for the tyre preservation of Conor Daly in the ART. The American was on fire late in the race, closing what had been a gap of five seconds at one stage to close to the back of the lead battle and complete the podium.
"It wasn't so much fun towards the end with the front tyres gone, but it's great to get the win!" Ellinas said. "I went hard early on to get the point for fastest lap when the tyres were new but towards the end it was a case of reducing my speed into the corners and driving to the available grip.
"The last lap was a bit of scramble with Patric and Conor close to me but I managed to close the door, not make a mistake and get decent corner exits, so a very good and satisfying start."
GP3 Race 1 - Spain
1) Tio Ellinas (CYP) - Marussia Manor Racing
2) Patric Neiderhauser (SWI) - Jenzer Motorsport
3) Conor Daly (USA) - ART Grand Prix
4) Nick Yelloly (GBR) - Carlin
5) Aaro Vainio (FIN) - Koiranen
6) Jack Harvey (GBR) - ART Grand Prix
7) David Fumanelli (ITA) - Trident
8) Kevin Korjus (EST) - Koiranen
9) Robert Visoiu (ROM) - MW Arden
10) Alex Fontana (SWI) - Jenzer Motorsport