Aaro Vainio wins second GP3 Race at the Circuit de Catalunya
Team-mate Kevin Korjus and Patric Niederhauser complete podium
By William Esler
Last Updated: 17/09/13 1:23pm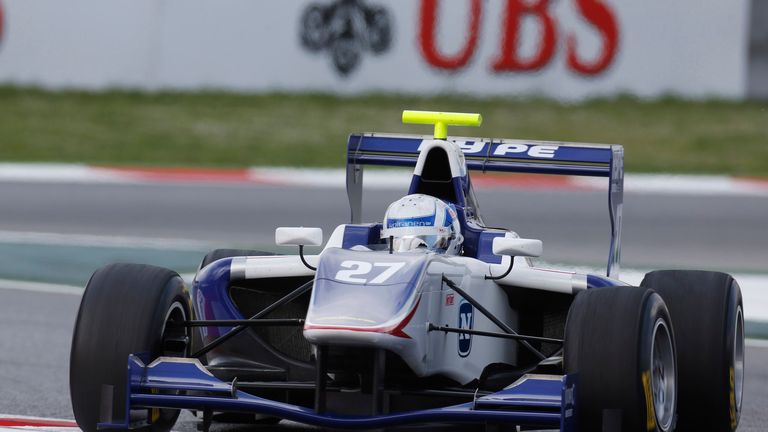 Lining-up fourth on the grid, the Finn timed the lights perfectly to leap ahead of polesitter Kevin Korjus, David Funmanelli and Jack Harvey to lead into turn one.
However, if there was an award for best start it would have gone to Dino Zamparelli, who passed 13 cars on the opening lap to come from 27th to 14th.
With tyre wear once again critical, the safety car at the end of the opening lap would have been a welcome sight for the drivers as the Bamboo car of Melville McKee was recovered.
The action soon got underway again and on lap six there was more contact as Ryan Cullen dived to the inside of Danil Kvyat at turn four. However, perhaps not expecting a move from so far back, the MW Arden driver turned in on the Marussia and both drivers were forced out of the race. Cullen was found guilty of causing an accident by the stewards and handed a five-place grid penalty for the next race in Valencia.
In the middle of the pack, Zampaerelli and Alex Fontana put on a great display for the fans that had arrived at the circuit early, as they ran side-by-side for most of lap ten, crucially never making contact.
Nick Yelloly looked to be on course for only his second GP3 podium, but by lap 12 his tyres were well past their peak and the Carlin driver was struggling to keep Fumanelli behind. That battle would end with Fumanelli running into the back of the British driver at the chicane, forcing him out of the race. The Italian would go on to finish fifth, but surely will face an investigation from the stewards.
The man to take advantage of their squabble was Race One winner Tio Ellinas who moved into third, but a lovely move from Patric Neiderhauser at turn four saw the Jenzer driver go around the outside of the Cypriot to take the final podium place with three laps to go.
Carlos Sainz Jr crossed the line in seventh place, but was excluded from the results after his car was found to be underweight. Fellow MW Arden driver Robert Visoiu was also penalised - the Romanian having 20 seconds added to his finishing time for causing a collision with McKee.
GP3 Spain - Race Two Results
1) Aaro Vainio (FIN) - Koiranen GP - 29:44.420
2) Kevin Korjus (EST) - Koiranen GP - +1.808
3) Patric Niederhauser (SWI) - Jenzer Motorsport - +6.948
4) Tio Ellinas (CYP) - Marussia Manor Racing - +14.048
5) David Fumanelli (ITA) - Trident - +15.234
6) Conor Daly (USA) - ART Grand Prix - +15.469
7) Carlos Sainz Jr (ESP) - MW Arden - +16.085 *excluded from results for being underweight
8) Jack Harvey (GBR) - ART Grand Prix - +17.853
9) Lewis Williamson (GBR) - Bamboo Engineering - +20.916
10) Giovanni Venturini (ITA) - Trident - +21.704
Selected others
17) Dino Zamparelli (GBR) - Marussia Manor Racing - +26.851
Josh Webster (GBR) - Status Grand Prix - Not Classified
Nick Yelloly (GBR) - Carlin - Not Classified