Facu Regalia takes GP3 for in Germany
ART driver secures maiden pole in the series
By William Esler
Last Updated: 17/09/13 1:30pm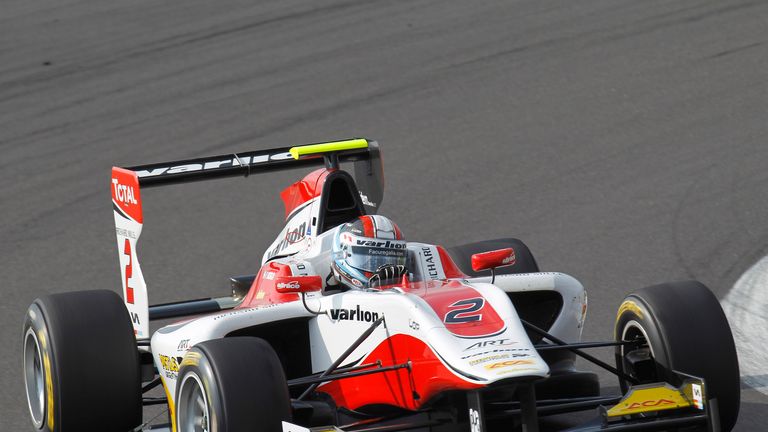 Just 0.054 seconds separated the ART and Marussia Manor drivers after a thrilling session on Saturday morning in Germany.
The times began to tumble around the mid-point of the session and Ellinas was the first man to dip into the 1:44s. The Cypriot, though, was quickly beaten by Alex Sims, who continued to impress on his one-off return to the series, Daniel Kvyat and Kevin Korjus.
Then it was the turn of the Brits to jump to the top of the leaderboard with Lewis Williamson putting his Bamboo car on provisional pole just ahead of Carlin's Nick Yelloly.
But behind them Ellinas was flying and went nearly four tenths clear at the top. That looked good enough for pole, but right at the end of the session Regalia hooked up all three sectors to edge ahead of the Marussia driver.
GP3 Germany - Qualifying
1) Facu Regalia (ARG) - ART Grand Prix - 1:44.170
2) Tio Ellinas (CYP) - Marussia Manor Racing - +0.054
3) Alex Fontana (SWi) - Jenzer Motorsport - +0.312
4) Jack Harvey (GBR) - ART Grand Prix - +0.396
5) Lewis Williamson (GBR) - Bamboo Engineering - +0.432
6) Nick Yelloly (GBR) - Carlin - +0.449
7) Alex Sims (GBR) - Status Grand Prix - +0.500
8) Daniel Kvyat (RUS) - MW Arden - +0.505
9) Kevin Korjus (EST) - Koiranen GP - +0.515
10) Carlos Sainz (ESP) - MW Arden - +0.516
Selected others
13) Melville McKee (GBR) - Bamboo Engineering - +0.788
16) Dino Zamaperlli (GBR) - Marussia Manor Racing - +0.981
24) Josh Webster (GBR) - Status Grand Prix - +2.505
26) Ryan Cullen (GBR) - Marussia Manor Racing - +3.474
Remember you can watch the German GP live from the Nurburgring with a Sky Sports Day Pass from NOW TV. For more information, visit http://bit.ly/19YBfbx