Facu Regalia takes maiden GP3 victory in Race One at the Nurburgring
ART driver leads every lap as he dominates
By William Esler
Last Updated: 17/09/13 1:31pm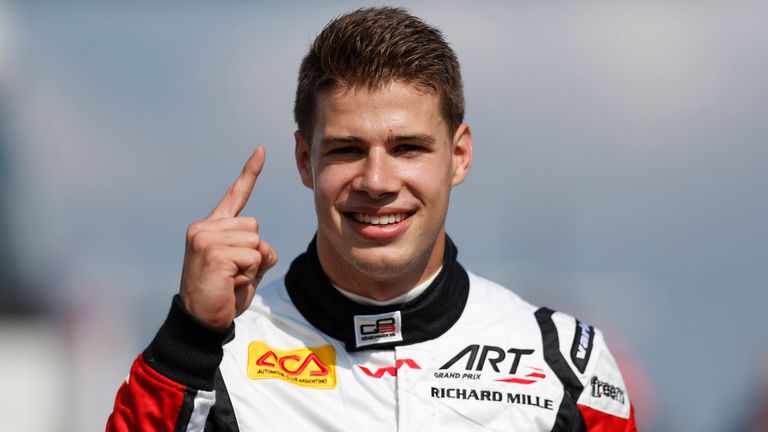 The ART driver was in a league of his own at the German circuit and stormed into an early advantage from pole position.
Behind him, Alex Fontana, who had achieved his best ever qualifying position with third, was tapped into a spin at turn four by Kevin Korjus, forcing him out of the race with rear wing damage. The Koiranen GP driver was handed a drive-through penalty for causing the accident.
That was far from the only incident on the opening lap. At turn seven, Luis Sa Silva carried too much speed into the hairpin and collected Eric Lichtenstein which forced both Carlin cars out of the race.
Not to be outdone, the Status drivers also made contact on lap one when an overly optimistic Jimmy Eriksson hit Josh Webster at the chicane, almost flipping the British driver upside down. Both cars retired from the race.
Daniel Kvyat's MW Arden stopped on the exit of the hairpin causing the safety car to be scrambled on lap four, eroding Regalia's early lead. However, he made a good restart and never looked back, opening up a seven-second gap at the flag.
The race settled down after that, with once again the drivers struggling to get close to each other with the harder Pirelli tyres and the increased aero of the GP3/13 chassis. The only notable incident was a black-flag for Carmen Jorda who ignored a drive-through penalty for exceeding track limits.
GP3 Germany - Race One
1) Facu Regalia (ARG) - ART Grand Prix - 28:27.197
2) Tio Ellinas (CYP) - Marussia Manor Racing - +7.160
3) Jack Harvey (GBR) - ART Grand Prix - +7.658
4) Lewis Williamson (GBR) - Bamboo Engineering - +11.851
5) Nick Yelloly (GBR) - Carlin - +12.586
6) Carlos Sainz (ESP) - MW Arden - +16.503
7) Melville McKee (GBR) - Bamboo Engineering - +17.495
8) Alex Sims (GBR) - Status Grand Prix - +18.449
9) Dino Zamparelli (GBR) - Marussia Manor Racing - +19.481
10) Conor Daly (USA) - ART Grand Prix - +19.886
Selected others
19) Ryan Cullen (GBR) - Marussia Manor Racing - +36.914
Josh Webster (GBR) - Status Grand Prix - Not classified
Drivers' Championship
1) Tio Ellinas - 87
2) Facu Regalia - 72
3) Kevin Korjus - 59
4) Jack Harvey - 57
5) Conor Daly - 52
6) Aaro Vainio - 44
7) Nick Yelloly - 42
8) Daniel Kvyat 40
9) Carlos Sainz - 32
10) Patric Niederhauser - 28
Remember you can watch the German GP live from the Nurburgring with a Sky Sports Day Pass from NOW TV. For more information, visit http://bit.ly/19YBfbx