Alexander Sims wins GP3 Race Two on his return to the Series at Spa-Francorchamps
Tio Ellinas' bad luck continues after first corner crash
By William Esler
Last Updated: 17/09/13 1:35pm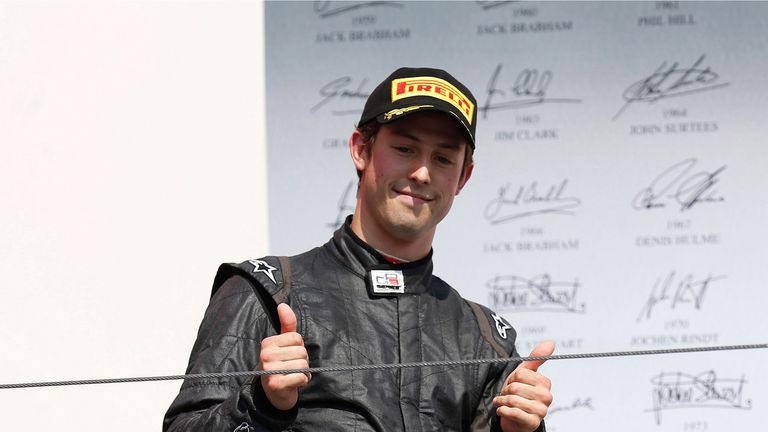 The British driver surged past team-mate Nick Yelloly from fourth on the grid and inherited the lead when Melville McKee tried to make up for a slow start from second with a lunge on pole-sitter Tio Ellinas at La Source which forced both drivers wide.
The Bamboo driver was handed a drive-through penalty for causing the crash, whilst Ellinas' title challenge continued to unravel as he retired from the race.
That allowed the fast-starting Conor Daly to move into second spot having lined up seventh, whilst his team-mate and Drivers' Championship leader Facu Regalia also got past Yelloly to move into the final podium spot.
With tyres under scrutiny in F1 following punctures in Friday's practice sessions, it will have been a worry for everyone in the paddock to see two drivers suffer deflations during the race.
Emanuele Zonzini was the first - his right-rear deflating after the Trident driver ran over the exit kerb at Blanchimont - whilst Samin Gomez had problems with her rear-left at Les Combes.
The ART team had done a great job overnight to rebuild Jack Harvey's car after a huge crash on the Kemmel Straight, but he only lasted eight laps before returning to the pits and retiring from the race. Fortunately for the Briton, the fact that he took the start means he has served his ten-place grid penalty rather than it hanging over him until Monza.
Throughout the field the battles raged until the final lap - Alex Fontana and Carlos Sainz showed how it should be done as they went wheel-to-wheel through Eau Rouge, unlike Luis Sa Silza and Aaro Vainio, who crashed out on the final lap when the Korianen GP driver made an overly optimistic move at Malmedy.
But at the front, no-one could get close to Sims, who eased to victory by over eight seconds and looked not to have even broken sweat on his return to parc ferme.
GP3 Belgium - Race Two
1) Alexander Sims (GBR) - Carlin - 27:45.036
2) Conor Daly (USA) - ART Grand Prix - +8.314
3) Facu Regalia (ARG) - ART Grand Prix - +10.773
4) Nick Yelloly (GBR) - Carlin - +15.100
5) Kevin Korjus (EST) - Koiranen GP - +16.251
6) Danil Kvyat (RUS) - MW Arden - +18.230
7) Dino Zamparelli (GBR) - Marussia Manor Racing - +18.963
8) Robert Visoiu (ROU) - MW Arden - +20.051
9) Patric Niederhauser (SWI) - Jenzer Motorsport - +21.799
10) Lewis Williamson (GBR) - Bamboo Engineering - +242.203
Selected others
17) Ryan Cullen (GBR) - Marussia Manor Racing - +47.784
18) Josh Webster (GBR) - Status Grand Prix - +52.127
Melville McKee (GBR) - Bamboo Engineering - Not Classified
Jack Harvey (GBR) - ART Grand Prix - Not Classified
Tio Ellinas (CYP) - Marussia Manor Racing - Not Classified
Drivers' Championship
1) Facu Regalia - 115
2) Conor Daly - 101
3) Tio Ellinas - 95
4) Kevin Korjus - 93
5) Danil Kvyat - 88
6) Aaro Vainio - 75
7) Jack Harvey - 75
8) Nick Yelloly - 68
9) Carlos Sainz - 64
10) Robert Visoiu - 43