MW Arden's Daniil Kvyat eased to victory in the first GP3 race at Monza
Russian dominant as chaos reigns behind him
By William Esler
Last Updated: 17/09/13 1:38pm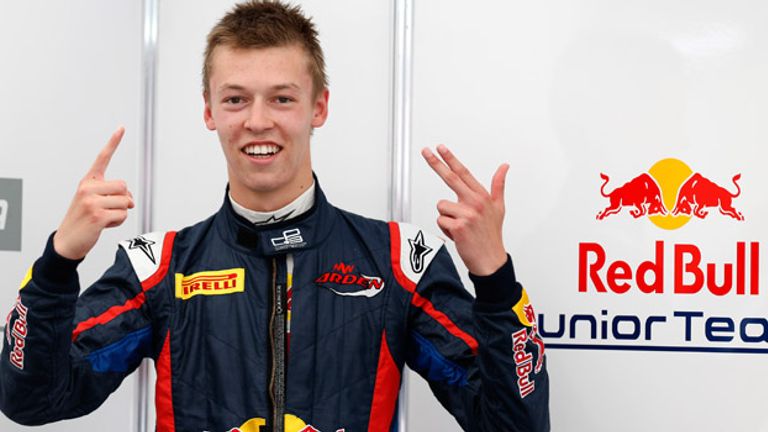 There was action before the grid had even formed as Drivers' Championship leader Facu Regalia spun as he weaved on the way to his starting slot, narrowly missing the pit-wall, but he was able to take up his eighth spot. Josh Webster, though, was not so fortunate and was pushed away at Parabolica as the field lined-up.
Kvyat made a good get away from pole position and got through the first chicane unscathed as things kicked-off behind him.
Carlos Sainz had made a lightening start from sixth on the grid to move up to second, but behind him Dino Zamparelli was on the grass and unable to get his car stopped as the pack rounded the first corner.
The Marussia Manor driver speared into the side of team-mate Tio Ellinas eliminating both drivers. Ellinas then tagged the rear of Sainz spinning the Spaniard, who dropped to the back of the field, whilst Zamparelli hit the third MW Arden of Robert Visoiu, putting him out of the race. Conor Daly also got caught up in the incident, picking up a puncture which forced the ART driver out.
Nick Yelloly, who started fifth, and Alexander Sims, who started fourth, somehow managed to avoid the carnage and took advantage to move into second and third respectively.
At the end of lap two, Alex Fontana lost control of his Jenzer car at the Parabolica and was fired into the barriers. There was more flying carbon fibre seconds later when Luis Sa Silva ran into the back of Ryan Cullen at the first chicane to compound a miserable afternoon for Marussia Manor Racing.
By the end of lap four, Sims was under pressure from Regalia who got past at the first chicane. The Carlin driver tried to fight back at the second chicane, but that opened the door for Lewis Williamson to pass him on the run to the first Lesmo.
A man on the charge was Sainz, who fought his way back through the field and moved into the top ten and the points on lap 13. He would make that ninth on the penultimate lap and you have to wonder if he could have challenged Kvyat for the win had he not been spun out at the start.
As it was, the Red Bull-backed driver picked up 25 points for the win, plus a bonus point for fastest lap, much to the delight of the watching Helmut Marko.
GP3 Italy - Race One
1) Daniil Kvyat (RUS) - MW Arden - 28:10.516
2) Nick Yelloly (GBR) - Carlin - +5.352
3) Facu Regalia (ARG) - ART Grand Prix - +8.084
4) Lewis Williamson (GBR) - Bamboo Engineering - +8.694
5) Alexander Sims (GBR) - Carlin - +10.683
6) Kevin Korjus (EST) - Koiranen GP - +12.426
7) Jack Harvey (GBR) - ART Grand Prix - +13.557
8) Patric Niederhauser (SWI) - Jenzer Motorsport - +23.166
9) Carlos Sainz (ESP) - MW Arden - +28.336
10) Patrick Kujala (FIN) - Koiranen GP - +30.410
Selected others
12) Melville McKee (GBR) - Bamboo Engineering - +31.301
20) Ryan Cullen (GBR) - Marussia Manor Racing - +1 lap
Conor Daly (USA) - ART Grand Prix - Not classified
Tio Ellinas (CYP) - Marussia Manor Racing - Not classified
Dino Zamparelli (GBR) - Marussia Manor Racing - Not classified
Josh Webster (GBR) - Status Grand Prix - Not classified
Drivers' Championship
1) Facu Regalia - 130
2) Daniil Kvyat - 119
3) Conor Daly - 101
4) Kevin Korjus - 101
5) Tio Ellinas - 95
6) Nick Yelloly - 86
7) Jack Harvey - 81
8) Aaro Vainio - 75
9) Carlos Sainz - 66
10) Alexander Sims - 53