Marussia's Pat Symonds thinks most F1 teams are currently experiencing financial woes
"It's really tough in Formula 1 at the moment," technical boss reckons
By Mike Wise
Last Updated: 29/04/13 5:14pm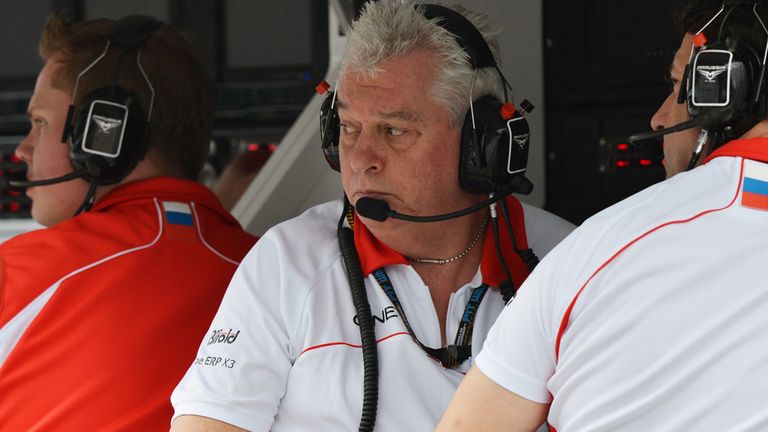 Speaking to Sky Sports Online at the recent Chinese Grand Prix, the former Benetton and Renault technical boss said: "It's really tough in Formula 1 at the moment. The fact is, outside the top four teams everyone has some financial concerns.
"And even in the top four you've got Mercedes who, while they haven't financial concerns, there must be other concerns there - that they don't go the way of Honda and Toyota."
Of all the teams, though, the financial straitjacket worn by Marussia is the tightest. Having lost tenth place in the Constructors' Championship to Caterham at the final race of last season in Brazil, the rivals subsequently held merger talks.
They soon fell through, with Marussia admitting that money was the main reason for their subsequent decision to part ways with lead driver Timo Glock. Rookies Max Chilton and Jules Bianchi - who both bring sponsorship - are racing for them this season.
With a new Concorde Agreement yet to be confirmed, Marussia are the only team yet to shake on commercial terms with Bernie Ecclestone. The F1 supremo has also confirmed that the $10m payout to teams finishing lower than tenth in the standings will no longer be made.
Furthermore, a 25.3 per cent minority stake in the team held by Lloyds was recently sold to the Russian sports car company that gives the team - whose most recent accounts reportedly revealed a net loss of £46.3m - their name.
Symonds insists, however, that Marussia - who currently hold the all-important tenth place above Caterham in the Constructors' Championship - can weather the storm.
"Everyone's worried," he added. "But the difference between the haves and the have-nots is just immense - and it's not getting any better. Under the last Concorde (Agreement) the new teams including Marussia did get some payout from FOM; it wasn't a lot of money but it was a significant part of our budget, because our budget was so small. And when you take away things like that, it really hurts.
"I really like the people here. They're racers - (Team Principal) John (Booth) and (President) Graeme (Lowdon) particularly, they're in the Frank Williams mould. They're not going to let this team go.
"So we will survive and the great thing about us is that we're small, so if things get tough one day we can pull our horns in a little bit. And if we get more money we'll use it wisely, because we're used to not having much money."
To read the Sky Sports Online Q&A with Pat Symonds in full, click here