Marussia finally seal commercial agreement with Formula 1; All 11 teams now signed up
Lowdon says belated agreement now "allows us to move forward"
By James Galloway at Buddh International Circuit
Last Updated: 25/10/13 2:55pm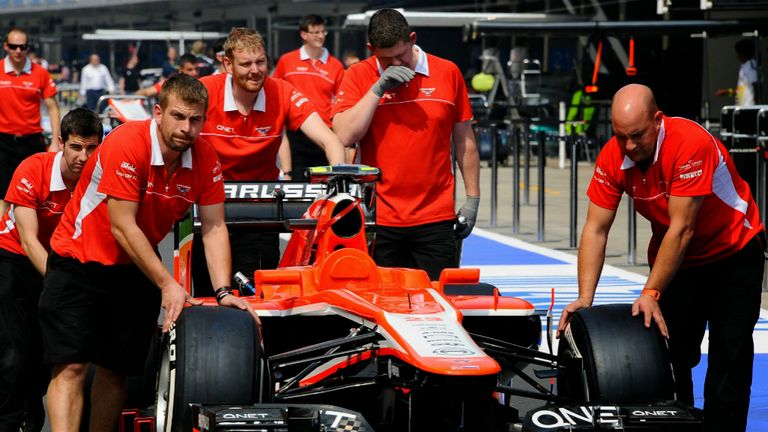 The Banbury-based outfit had for months been the only one of Formula 1's 11 teams not to have signed an individual seven-year agreement with the sport's rights holder, deals which outline the commercial terms they compete on.
At the Indian GP on Friday, however, the team confirmed those long-running negotiations had finally been concluded successfully.
"We have signed an agreement between Marussia Formula 1 Team and the commercial rights holder, often termed the bilateral agreement," Lowdon told Sky Sports Online.
"That means that all the teams on the grid now have signed these similar agreements. We're very pleased we've reached agreement and it allows us to move forward."
Speaking to The Times in June, Lowdown had stressed that "all we ask for is a level playing field" as they strove to strike a deal with Ecclestone.
Asked on Friday if it was a relief that the issue could now finally be put to bed, Lowdon said it was simply more important that Marussia were no longer out in the cold relative to the rest of the grid and could focus on the future.
"It has taken a long time but there's not a lot of point dwelling on that. The main thing is that agreement has been reached and that allows us to move forward," the Englishman said.
"I think as well it also changes how the team's perceived externally. We kind of were in a position where we were the only team that hadn't signed and now every team has signed individual agreements.
"It's less relief, it's more just a case of drawing a line under that and moving forward."
Although the team have slipped behind perennial rivals Caterham in the on-track pecking order since the early weeks of the season, Marussia still hold the coveted, and lucrative, tenth place in the Constructors' Championship heading into the season's final four rounds owing to a higher race finish than their rival.
With the commercial deal to secure their F1 future concluded, Lowdon said it was now important to consolidate a season of progress by keeping Caterham at bay.
"We've made some really good steps," he stressed when asked about 2013 progress.
"Some are unseen in terms of structure, we've grown in a number of areas and are really happy with the progress of the team. We've raced the car pretty well, especially in the periods where we've had a performance deficiency to our nearest rival.
"We're happy to be still ahead of them in the championship but we don't take anything for granted. It's really important to stay ahead right to the last lap of the last race of the season, as we found in Brazil last year. So we'll be fighting right up to the end."