Exclusive: Max Chilton is targeting his first F1 points after being retained by Marussia
Briton's best finish last season was 14th in Monaco
By William Esler at The NEC
Last Updated: 11/01/14 10:52pm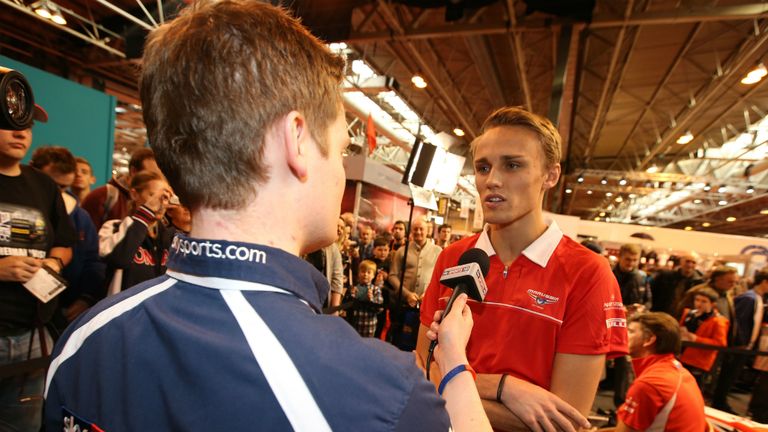 The Briton was the only driver to finish every grand prix in 2013, but failed to score a point with 14th on the streets of Monaco his best result.
However, with major rule changes this season effectively resetting the playing field, the 22-year-old is hopeful Marussia can capitalise and leap up the grid.
"For sure that is our target - you have got aim high, but you don't want to be unrealistic," he told Sky Sports Online.
"I think with these big rule changes, you only have to do a few things right to go up and the top teams only have to do a few things wrong to drop down. For the first few races things will be very mixed up."
Having used Cosworth power since entering F1 in 2010, Marussia will switch to Ferrari power this season and that is something that excites Chilton.
"We all know Ferrari make fantastic cars and Scuderia Ferrari make fantastic Ferrari F1 engines," he added.
"I think that hopefully when we get to grips with the car in Jerez, it will perform to how we want it to perform."
Chilton will be partnered again this season by Jules Bianchi meaning Marussia and Mercedes are currently the only two teams on the grid to have retained the same driver line-up for 2014. The Briton hopes the fact that everyone is familiar with each other will allow the Banbury-based team to still a march on the opposition.
"I got to know the team really well over 2012 and 2013, it is not a big team - it is maybe 200 people, compared to some teams which have 600 or 700 - so it keeps that nice family feel," he said.
"I think continuity is key and we can go into next year with the same driver line-up which really does help. It means we can spend our time developing the car as quickly as we can instead of starting to get to know each other which a lot of the other teams will be doing."