Exclusive Graeme Lowdon Q&A: Marussia Sporting Director looks ahead to 2014
Chief discusses reasons team retain Max Chilton for a second year
By William Esler
Last Updated: 13/01/14 11:59am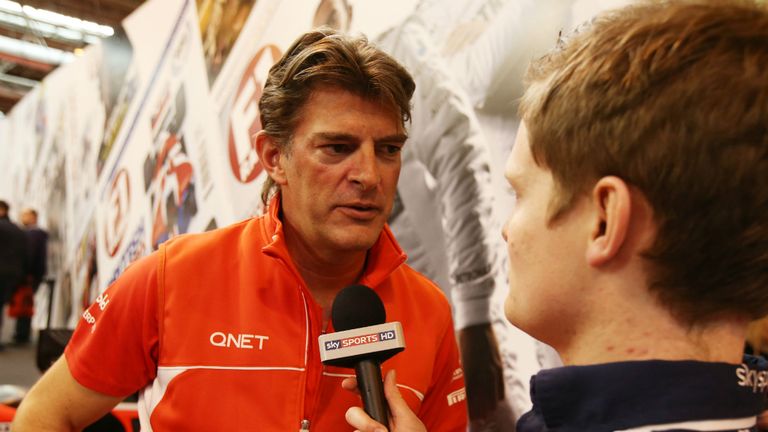 What were the reasons for retaining Max Chilton for a second season?
Graeme Lowdon: "Two things I think. One is the obvious one which is continuity, there are a lot of big changes for 2014, in particular the powertrain, but also some of the other regulations in Formula 1 and that was the most obvious thing.
"I think the second thing is Max really showed us last year a little bit of what he can do, in particular from the mid-season break onwards he showed some really impressive gains. He was up against a team-mate who had had a lot more mileage in Formula 1 before the start of Max's first ever season and mid-season onwards he really showed a big increase in speed and of course the reliability as well.
"We were impressed that he was able to learn and progress, there was no plateauing or flat-lining, it was just constant improvement in every session and every race so we are really happy to have him on board for 2014 on merit."
How big an influence was it for the team that Max finished every race last season?
GL: "Yeah it was really good - you've got to have a reliable car and I think it is going to be even more important in 2014 and it is really testament to all of the staff on the travelling race team and the design and manufacturing staff back at Banbury. We have a very small team, but that does mean that every single person on it knows which part of the car they are responsible for, so maybe that was a factor.
"Also Max did a really good job keeping out of trouble, there were a few drivers in Formula 1 that found themselves at the centre of a lot of accidents and certainly Max wasn't one of them. We were really happy with his performance."
You went into 2013 with two rookie drivers, how much do you think they matured over the course of the season?
GL: "Yeah that was a bit of a gamble, we had never done that before and it worked really well for us. Another important thing for a team that is developing is the spirit within the team and we had an extremely good team spirit, a very, very strong team spirit. We had some ups and downs last year and that was important.
"I couldn't fault or drivers at all, barring one or two small things, they did a really sensational job and I think it vindicated the choice to start with two rookies. Now we have two experienced drivers so we will see how 2014 goes."
What difference is the new partnership with Ferrari going to make for you next season?
GL: "I think it will make a big difference. Scuderia Ferrari are a very, very professional outfit and it is an absolute pleasure to work with them.
"I am very excited about the product and also the service offer that they give us. They are very creative and very helpful, very knowledgeable and very experienced and we are relishing it - these new engines are a big challenge, but we are relishing it as we are going in there with a very strong partner."
How difficult has it been for you to develop a car with the major rule changes this season? You've said it yourself that you don't have the biggest budget or staffing levels, so how difficult has it been?
GL: "Very difficult - but it is Formula 1, it is meant to be difficult. That is really the top and bottom of it. No matter how many people you have, at the end of the day the challenge is going to be the same, the rule set is the same.
"We don't have the resources to get ourselves out of some of the problems that some of the other teams can get themselves out of, but we just have to address that and try to get it right. We are just looking forward to the car testing and seeing where we stand."
Will the car be ready to run at the first test in Jerez?
GL: "Yeah, I hope so. Every team is working towards that, testing time in Formula 1 is incredibly limited, so if it is there and you can use it, you want to use it. That said there are a thousand tiny components that can stop you or slow you. Hopefully we will be there, that is certainly what we are planning for."
Are you confident you can make a big step forward in 2014 given that the playing field has effectively been reset?
GL: "I'll have to answer that after pre-season testing."
The Sky Sports F1 Online team will be providing live commentary of all three winter tests, starting in Jerez on Tuesday January 28, with live updates from trackside also on Sky Sports News