Marussia pleased with start of MR03 testing after delayed arrival at Jerez
Minnows complete more laps than Red Bull in half the time
By James Galloway at Jerez
Last Updated: 31/01/14 6:46pm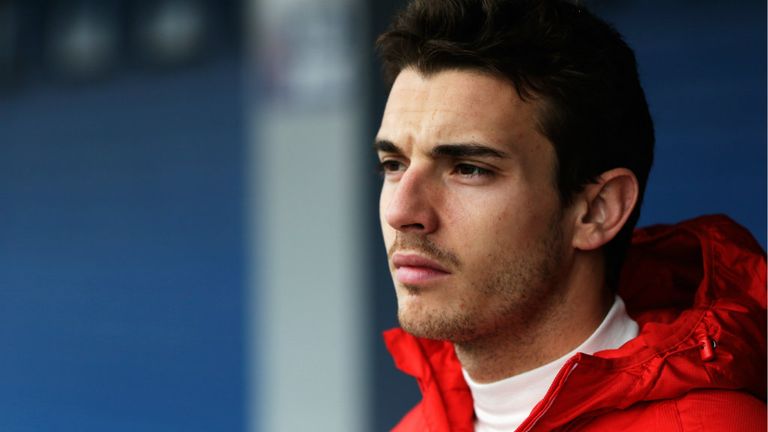 The Banbury outfit had originally intended to launch their first Ferrari-powered challenger, the MR03, alongside a host of other teams in the pitlane on Day One of the test but were forced to delay the car's transportation to southern Spain owing to what they described as a "small but frustrating technical issue".
They belatedly rolled out the car in the afternoon on Day Three, covering five installation laps with Max Chilton, before Jules Bianchi was able to complete some more sustained mileage - 25 laps - during the rain-hit final day.
Although behind the majority of teams, both Bianchi and Sporting Director Lowdon agreed that the fact they still put more laps on the board in two days than the World Champions managed in four was a good effort.
"It means that we did a great job," Bianchi told reporters. "The team pushed a lot to be here and we did it. Yesterday we didn't do many laps but it's normal on the first day you have some issues, although not a big one.
"Then today it was an improvement. We did 25 laps, which is not ideal because we wanted to do a lot more, but it's a good start."
Lowdon added: "You never know when you go into testing just what you're going to come up against but I think we can be reasonably happy.
"We viewed it that this is our second day of testing rather than the fourth day and we've learned a lot. That's what testing's all about so we've got enough good data now to put a programme together ahead of Bahrain. So all in all we can be really quite happy with the progress so far."
Happy that Marussia are now in shape to ramp up their on-track preparations from the first of the Bahrain tests in mid-February, Lowdon said they had made the right call to delay their arrival at Jerez.
"We made the decision to fix it at the factory where we had some more resources and I think that was the right thing to do rather than to come down here and then sit in a garage," he explained.
"It's frustrating but it is what it is. Every team leaves the final assembly of the car to the last minute because it's maximising your design time, so all the right things were done. The car was complete on time and we just had to iron out some of these systems problems more than anything else.
"We've just worked through a programme, there haven't been any surprises there. So really very happy with the progress, both in terms of what we've learnt off the track as well as on the track."
With the three Ferrari-powered teams clocking up 444 laps between them across the test - more than double that of Renault's three customers - the reliability proofing of the Scuderia's new V6 turbo engine has got off to a positive start.
Marussia themselves suffered only two car-related race retirements last year and, in a testing season which has already been characterised by unreliability, Bianchi says he takes comfort from the team's track record.
"I've always been confident with Marussia," the Frenchman said. "Last year we had a really good car on reliability so I was really confident for this year as well. Obviously we are with Ferrari for the engine and everything else, which is a good help as well."
Total laps completed by each team
Mercedes - 309.
Ferrari - 251.
McLaren - 245.
Williams - 175.
Sauber - 163.
Force India - 146.
Caterham - 76.
Toro Rosso - 54.
Marussia - 30.
Red Bull - 21.
Laps completed by each engine manufacturer
Mercedes - 875.
Ferrari - 444.
Renault - 151.
The Sky Sports F1 Online team will be providing live commentary of all three winter tests, with live updates from trackside also on Sky Sports News.