Mike Gascoyne has warned other new teams in F1 will struggle for survival
Caterham chief says current spending levels are "madness"
By William Esler
Last Updated: 14/01/13 2:20pm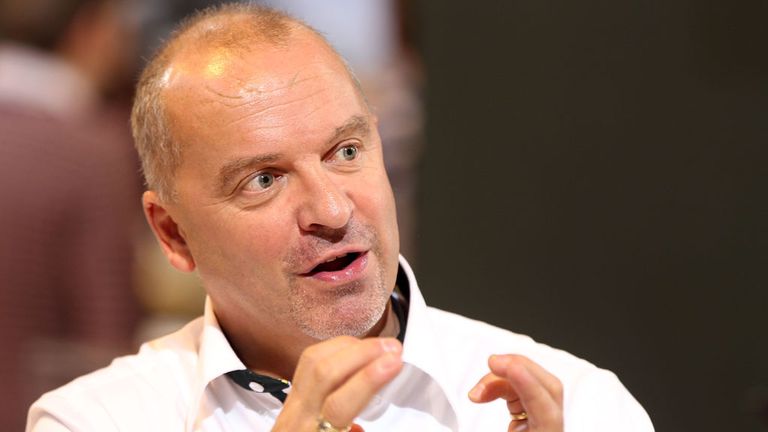 The Englishman has currently moved away from the pit-wall and taken up the role of Group Technical Officer at the expanding Leafield outfit, overseeing a number of the company's other business ventures.
And it is those additional revenue streams that the 49-year-old feels will ensure Caterham are able to continue in Formula 1 in the long term.
"One thing about the Caterham Group is that when we set up the Caterham F1 team, it was all about a sustainable automotive group - so cars, consultancy and the rest of the business earn money to be able to fund a Formula 1 team and that was always part of the idea," Gascoyne exclusively told Sky Sports F1 Online.
"That's what I am now running and it is the most important part of the group, as without it we won't have a Formula 1 team."
Caterham set themselves the target of moving into the midfield in 2012, but failed to score a point all season, and Gascoyne says it will take time to catch up with the other teams who have spent decades investing in facilities.
"I think you have got to understand that if you look at the nine teams that are in Formula 1 that have survived - so many teams have gone by the wayside - if you look at the investment that they have made over the years, because they have all been there for twenty or thirty years plus, spending £10-, £20-, £30million-a-year on facilities, you can't come in, even if you have got a decent budget, and match all those facilities overnight," he added.
"You can't suddenly spent £100million on all those facilities, seven-post rigs, wind tunnels etc, that these teams have. So it is a huge step up to move into Formula 1 and the most important thing for Caterham is to make sure it is sustainable and it survives, which I don't think any of the other new teams will do.
"It is a tremendous achievement just to survive and then once you get your first point and move into the midfield, that is going to take time, but the important thing is to make sure you have that survivability."
Gascoyne feels that a budget cap is a must for F1 if it is to survive long term and feels teams could cut their expenditure by six-fold.
"It (F1) absolutely needs a budget cap - it's madness that teams spent £200m or £300million to put two races cars out for two races," he insisted.
"It is absolute madness. If you look at the budget a team like us run off, which is £50million and is still a huge amount of money, and then you have teams spending six times that - if you had 20 Caterhams on the grid painted different colours, would you actually notice a difference? I don't think you would. And in this era, I think a budget cap is the only way for this sport to survive.
"I think £50million is absolutely the right level to set it at, including drivers' salaries and even my salary. [Former FIA President] Max Mosely tried to bring it in and it was very unpopular. But he didn't do it in the right way and I didn't agree with the way he did it, but you have to say what he wanted to do was correct.
"Football should be doing the same thing, the Premier League is not sustainable and all of sport needs to look at itself and limit these expenses."
The former Jordan, Renault, Toyota and Force India man also thinks points should be awarded to all drivers in a race to prevent a repeat of 2012, where Caterham only secured tenth spot in the Constructors' at the final race of the season and with it much-needed prize money.
"(It was) massively important - there were about £7million good reasons to do it," Gascoyne said.
"It was a fantastic job from Vitaly (Petrov) to do that, but it is what we deserved as the team was in front of Marussia for the whole year - we were a better team than they were. It would have been an anomaly if we hadn't finished tenth because it is just on that one position.
"I think you have to look at putting points all the way down [the field], because when you do it from your best race, we out performed them at every race and we could have lost a huge amount of money on one race and that is not what it should be about.
The team are yet to announce who will partner Charles Pic in 2013, but Gascoyne did hint it would be a young driver, rather than the experienced Heikki Kovalainen or Petrov.
"I'm not allowed to [say], but hopefully we will have a young guy in there that will be pushing hard," he added.