Marussia confirm talks with Caterham following Bernie Ecclestone's 'merger' claim
But Caterham boss insists exit talk is 'nonsense'
By Pete Gill and Mike Wise in Kuala Lumpur
Last Updated: 22/03/13 2:47am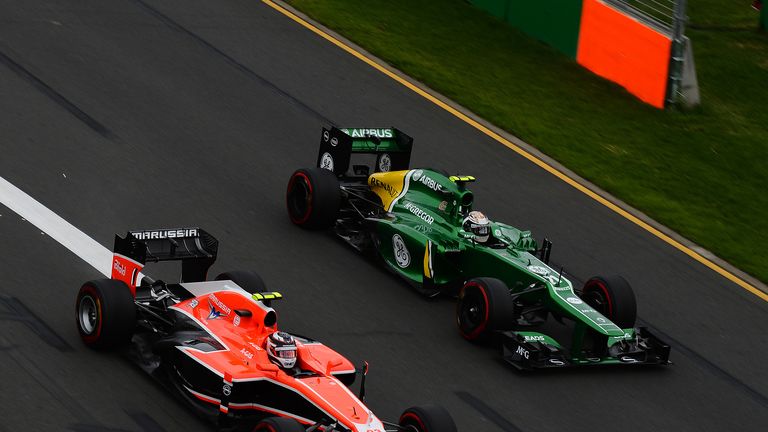 Speaking in the Sepang paddock ahead of this weekend's Malaysian GP, Marussia President Graeme Lowdon told Sky Sports Online: "I can confirm that discussions took place. I wasn't involved in them and as I understand it, the conclusion was unacceptable to our shareholders. So nothing happened."
Caterham are yet comment on the claims.
The financial struggle at the back of the grid was brought to the forefront last month when Martin Whitmarsh, the McLaren boss who is also chairman of the Formula One Teams' Association, opined: "We're in the world of advertising and you only have to see how advertising is worldwide. We have taken some measures, but I think it's going to be tough for some."
After three years of fruitless endeavors at the back of the field, perennial strugglers HRT folded over the winter and Caterham and Marussia are reported to have considered the most drastic of measures in order to guarantee their ongoing presence in the sport.
According to The Times, 'Talks between the Marussia and Caterham teams started over the winter as they tried to find common ground so that they could guarantee survival. But the talks foundered and the two teams are now in a dogfight for tens of millions of pounds in prize money'.
It is claimed Marussia were motivated to hold talks with their backmarker rivals because, unlike the other ten teams in the sport, they are yet to sign a commercial deal with Bernie Ecclestone for 2013.
However, Ecclestone has told the newspaper that a contract is ready to be signed and sealed.
"I have everything prepared here for them to sign. It is not a problem. But they have not been happy and they almost merged with Caterham, so that made me wondering what was happening," the F1 supremo said.
Whilst the battle between Caterham and Marussia to finish tenth in the Constructors' Championship essentially boils down to a land grab for a foot on F1's bottom rung, it is also arguably the most vital in terms of determining a team's future in the sport. With sponsorship increasingly hard to attain, Caterham's pickpocketing of tenth place in last year's championship - worth around £10m - was estimated to have cut Marussia's 2013 budget by a third.
Since then, however, Marussia have made a strong start to the new campaign amid clear evidence they have overtaken Caterham on the track, while Riad Asmat, Caterham's chief executive, has rubbished talk of his team leaving F1.
"Rumours of a withdrawal are nonsense," he declared. "Caterham is staying this year, next year and for many more years."