Tony Fernandes not planning on leaving Caterham any time soon
Owner says team back on right path after "messing up" in 2012
Last Updated: 25/05/13 8:36am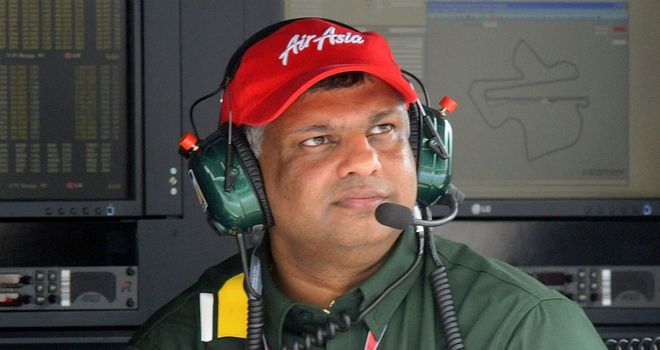 The club's relegation from the Premier League will cost millions of pounds in the long-term and is likely to see the departure of a number of high-earning players.
But Fernandes says he is in Formula One for the long haul, given the avenues it opens with regards to the future of Caterham's road car business which he also owns.
"We went in with our eyes wide open and we are too far down the line with Caterham so, no, I will not be leaving," said Fernandes, who was speaking ahead of this weekend's Monaco Grand Prix.
"And it's not about winning the world championship for me, it's about building a car, which has always been my dream and that's progressing quite well.
"I don't need to be world champion to sell lots of cars. I need to have a brand where people say 'I know that brand' and have a price point which allows people to aspire to own one of the cars.
"With all due respect, no-one is going to run out tomorrow and buy a McLaren or a Ferrari. There are not many cars on that grid you can translate into a sports car you can buy, so that's the market I'm after.
"Last year was a real disappointment. I thought by this year we would definitely be in the midfield, and if we hadn't have messed up last year, we could have been.
"When John Iley (head of aerodynamics signed from McLaren) came over last year we tried to be a bit too clever with the blown diffuser and it screwed us up.
"If we had just continued on our normal path we probably would have been in the midfield by now, so we've learned the hard way. But on the business side it's done everything I wanted it to.
"Every week we are now getting significant points (of downforce) in the wind tunnel, as opposed to what was not very aggressive growth over the first two years.
"I also think we've the right people now, but would I say we are 100 per cent where we want to be? No. We've a nice facility in Leafield and we're going in the right direction.
"I'm not saying we are going to be world champions any time soon, but I do believe if we continue this way then we have a good chance of progressing."