Sky Sports F1 Team Principals Q&A: Lowdon, Abiteboul, Kaltenborn and Tost
Debating the calendar, budgets, customer cars and pay drivers
By Sky Sports Online
Last Updated: 04/10/13 1:37pm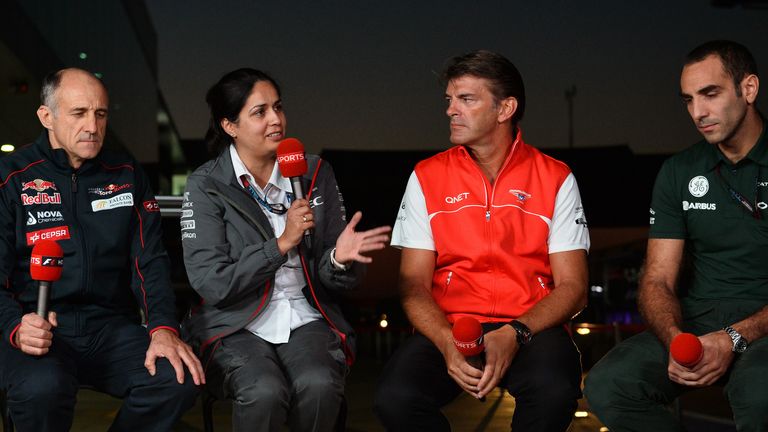 Let's start with the proposed 2014 calendar. Is it really possible? We heard from the team managers in the Friday press conference in Korea that it's actually impossible to get from some of those races to the next one in time. How does twenty-two races appeal to you?
Franz Tost: "I personally don't have a problem with twenty-two races. The current calendar [for 2014] says twenty-two, but there are question marks with New Jersey, Mexico and also with Korea. Therefore, let's wait and see. But from the Toro Rosso side, we are looking forward to twenty-two races because we are a racing team."
Monisha Kaltenborn: "I agree with Franz that we should first of all wait for the actual final calendar to come out. But I don't agree that it is so easily doable for a small team like ours because our biggest problem will be the personnel as you have to keep the human factor in mind. Apart from the logistics, which I still think can be sorted out, we will have to have new people coming in because you can't use the same people for all those races considering they will be testing and then you also have your marketing activities. It's a very big challenge from that point of view."
Let's look a little closer at the proposed calendar. Are we expecting New Jersey to drop out? And, if not, is the triple header of Monaco-New Jersey-Canada actually doable?
Graeme Lowdon: "As Franz and Monisha have already said, technically the logistics are actually possible because you can move things around quickly. But, as Monisha has also pointed out, the issue is the people side of it, because it's a very, very difficult job in F1 for the engineers, mechanics and even the media - so there's that element as well. I think we've got to look at what's probable - because what's possible and what's probable are two different things. I think we're looking at a 20-race calendar for next year. There are some provisional locations on the calendar and, I assume, some are likely to fall by the wayside."
How do you budget for next year when you don't even know how many races there are going to be?
Cyril Abiteboul: "It's a good point. We've talked about the human facttor, which I think is the main one, but the economic is something we definitely need to have to look at. We know there are extra costs associated with more races, and there will be more costs associated with more testing next year, but still we are not sure with the financial consequences. We hope there will be a financial benefit. We don't blame anyone. We all perfectly understand why the commercial rights holder wants to expand the show, he's looking after growth which is the normal thing to do when you are the commercial rights holder, but I think it's the normal thing for the teams to understand the pros and cons, the plus and minuses, of expanding the calendar. I'm afraid there will be a lot of divorces with this amount of races!"
And you might have to take a sixth engine next year, rather than just the five in the present regulations, if there are more than twenty races. You're also going to have to develop your car, so it's looking pretty tough on the finances, isn't it?
FT: "But if you do more races then you get more income as well..."
CA: "We don't know that yet!"
FT: "As I know Bernie, he will do this. I'm sure about that."
More money from races would be welcome. But if there isn't, how about customer cars? Would you support customer cars?
MK: "No. We have always said that we are not at all in favour of this concept. For us, it's always been a key element of Formula 1 to have the definition and the quality of a constructor. If you start changing these kind of fundamental points then you are changing Formula 1. I think we have a great product out there, we live from the diversity, we saw last year how a small team like ours could make it exciting out front, and that's what people like to see. If you start changing these sort of pillars you are changing the whole business model, so we are not for it."
But surely a well-run,well-funded works Sauber would still be able to beat these customer cars given that they would be operating with a smaller budget and most probably with young drivers in the cars?
MK: "I'm not so sure about that. First of all, F1 is not about customer cars, and I think that's a very dangerous direction to go down. Secondly, if you have a dominant team with customer cars then, looking at Red Bull this year, just imagine the situation with the current points system, the first four places would be taken by that team and then their customer cars. I don't think it is doable."
Can you clear up the F1 Strategy Group for next year? Is it only comprised of the top six teams? And if there are suggestions about bringing in new rules, like customer cars, will some of you teams further down the end of the pitlane have a say?
GL: "At the moment there is no structure in place. There are a lot of discussions and a lot of talk, but at present there is no regulatory structure. From our point of view, what we want to see is a government structure that reflects all the correct ideals of sport: transparent, democratic, and fair for all of the participants. So if there is a regulatory framework put in place that favours some teams over others then, really, it doesn't have a place in modern sport."
CA: "Talking about governance, there are still some things which are protected. The F1 Commission, as far as I know, is not modified and therefore should serve as a proper safeguard against any unfair evolution of the sport. As for customer cars, what we all want is a good show. Personally, I don't like customer cars, it doesn't correspond to the idea I have of Formula 1, it doesn't correspond to the show I was watching a boy, and it doesn't correspond to the investment we have made - including into people who we were talking about before regarding the calendar. But one thing we must keep in mind is that a sport in which a very competitive team is not capable of going forward, or an uncompetitive team isn't capable of going forward, and there is consistently a four or five second gap, is not good for the sport. Customer cars might not be the right answer, but there is a good question which is how do we make sure that the show is a good one and sustainable."
Let's talk about young drivers. Franz, you are bringing in Felix da Costa to a race seat next year, correct?FT: "You must know more than me! He is one of the Red Bull young drivers, but whether he races for Toro Rosso next year is not decided yet."
But how important is it to bring in young drivers? The driver market looks remarkably open for next season
FT: "That's true. But the season is not finished yet, and the season for the young drivers isn't finished yet. They still have races to do. We want to see performances, we want to see that they can win races. Then we will sit with Red Bull and decide what drivers we will take."
Graeme, Formula 1 should be all about the fastest drivers, not the richest drivers. We have this horrible situation with pay drivers dominating some of the seats now?
GL: "I think throughout F1's history we have always had pay drivers and they have come in many different financial structures and what have you. I think the fact that people talk about pay drivers much more now is more a reflection on the commercial structure of the sport than anything else. The sport is becoming too expensive. If you have an industry where costs are going up and income is going down then there will be problems and pressure points. I think it's like the discussion on customer cars...These are not solutions, they are just highlighting that there is a fundamental issue that the industry as whole has to address which is to make the sport more sustainable and to let it grow into the truly big sport that it should be."
Read Part One with the Team Principals of McLaren, Red Bull, Lotus and Ferrari - Martin Whitmarsh, Christian Horner, Eric Boullier and Stefano Domenicali.