Heikki Kovalainen confident he can help Lotus make ground in the Constructors'
"Everything happened pretty quick to be honest," admits Finn
By Mike Wise at Circuit of The Americas
Last Updated: 18/11/13 4:41pm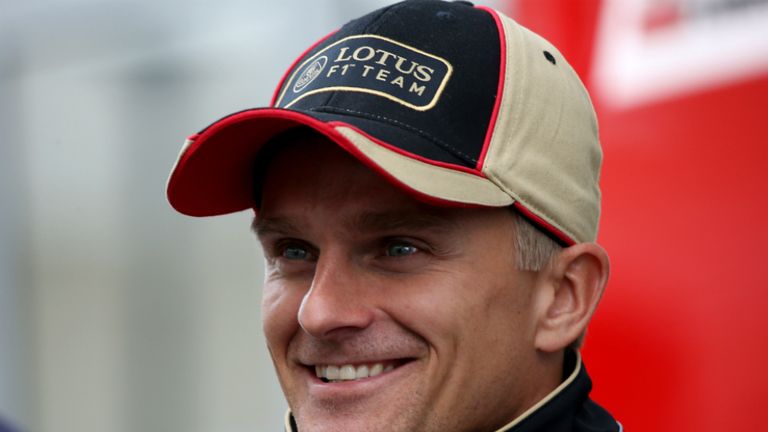 The Enstone team announced on Thursday that Kovalainen will take the place of countryman Kimi Raikkonen, who is undergoing back surgery, in Austin and then Interlagos. The 32-year-old only heard about the opportunity on Tuesday night when Lotus team boss Eric Boullier made contact.
It's been a whirlwind couple of days since then but after navigating a route to Austin that started at home in Switzerland and has subsequently taken in the UK and an overnight stop in New York, Kovalainen is relishing the chance once more to show people what he's capable of.
"I've had a few easy and lazy mornings all season so it's a good change to wake up for the alarm. I actually prefer it that way," said Kovalainen, who finally arrived at the Circuit of The Americas on Thursday afternoon.
"Everything happened pretty quick to be honest. I was casually at home, I'd just got back from the running track and the phone rang.
"I flew to England yesterday morning and spent most of the day at Enstone and did a couple of hours in the simulator to get a feel for some of the buttons and procedures that are in this car.
"We've managed to do quite a lot but whether it's enough or not we will find out."
Kovalainen, who tested and then raced for the team in 2007 when it was known as Renault, explained that his Friday running with Caterham this season was crucial in Lotus's decision to make the approach.
A combination of financial considerations, plus Kovalainen's frustration at what he saw as a lack of progress at Caterham, resulted in him taking a step back from the grid this season. Instead, he's had to content himself with several P1 appearances.
"It was a huge factor in why Eric and Lotus were asking for me. If I hadn't done Fridays, I think I would have been a less interesting option," he said.
"The question is how quickly I can get a feel for the car and push it to the limit. This year with Caterham I felt that, even if I'd driven quite little, I felt quite comfortable straight away in the car.
"The feeling is that I haven't had difficulties to get up to speed too much. That was one of the factors in why I wanted to do this as well, to see if I could do the same here.
"If I can do the same here then potentially I can get a good result."
Losing Raikkonen is clearly a huge blow for Lotus if they're to get the sorts of results they need to close the gap in the constructors' standings.
They currently stand 26 points behind Ferrari and it's equally clear the financial windfall that third place in the Championship delivers would mean far more to them than the Scuderia.
"I'm sure they hired me exactly because of that and to be honest if I didn't think I could do it, I wouldn't have accepted it," Kovalainen said.
"Only time will tell how things go but I expect myself to perform well and I've been in Formula 1 long enough. And if I haven't driven this year, I still expect myself to perform well and hopefully at the very limit."
Kovalainen added that talks with Caterham about a step back up to a race seat next season were at an advanced stage.
"The only team I've seriously spoken with about next year is Caterham. We're getting close to the point where we're starting to agree the terms, so I think it's still the most likely option for me," he said.
"This weekend and Brazil won't, I think, have a huge influence on that."