Marcus Ericsson forced to start from pits after 'reckless' collision with Felipe Massa
Swede also given two points on his licence for incident in Monaco
By William Esler
Last Updated: 24/05/14 6:22pm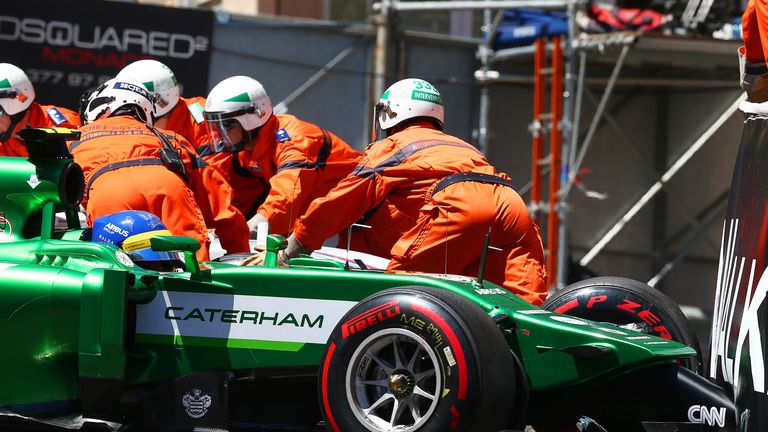 In the closing minutes of Q1, the Caterham driver caught the Brazilian on the approach to Mirabeau. Massa pulled off the racing line, however, the Swede carried too much speed into the right hander, lost the rear of the CT05 under-braking and forced both cars into the barrier and out of the session.
In addition to starting from the pits, Ericsson has also had two penalty points added to his licence for causing the crash.
"On my final push lap I was behind Massa going into Turn Five and he moved offline a bit which meant I had to change my braking point," Ericsson said.
"I locked up and went into the barrier with him which was my mistake. It's unfortunate it took him out too but it looks like the car is okay so now I want to put today behind me and concentrate on the race."
Massa was understandably upset following the incident and felt he could have made it into Q3 had it not been for the contact.
"I did everything I could in the first session but at the end Ericsson hit me and that ruined my qualifying," the Brazilian said.
"I was hopeful for a good position today as the car actually felt ok; it would have been a fight to get into the top ten, not easy, but possible. I am disappointed and tomorrow is going to be a challenge but with this car points are still possible."
Another rookie to find himself in trouble with the stewards was Toro Rosso's Daniil Kvyat. The Russian, who went on to qualify ninth, was given a reprimand for impeding Pastor Maldonado at Turn 19 during the first part of qualifying.