Caterham F1 to launch counter lawsuit against former employees
Around 40 staff departed in new owners' recent restructure
By Sky Sports Online
Last Updated: 05/08/14 11:29am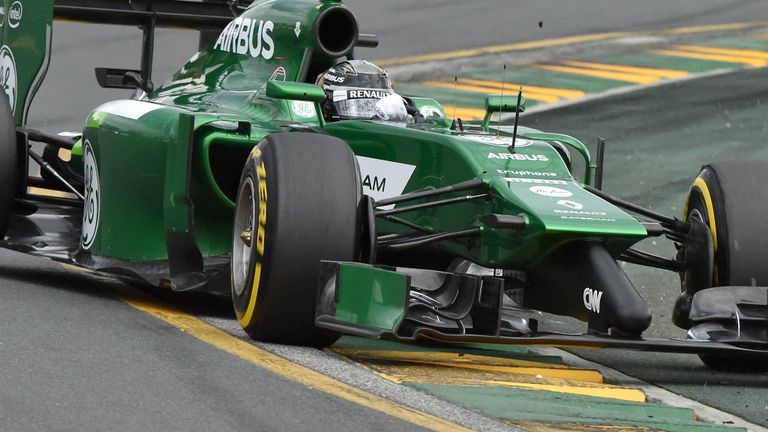 Caterham have announced they are launching legal action against a group of former employees who are claiming unfair dismissal by the team.
The Leafield-based outfit underwent a change of ownership at the start of this month after founder Tony Fernandes sold out to a consortium of Swiss and Middle Eastern investors. As part of the subsequent shake-up, which has seen former F1 driver Christijan Albers take over as Team Principal, the new owners slimmed down the workforce with around 40 employees thought to have departed.
Reports on the eve of last weekend's Hungarian GP suggested lawyers representing the affected staff had initiated legal action against the team. However, Caterham have now issued a statement of their own in which they both deny the claims and confirm they will sue for damages.
"Caterham F1 Team has read with great concern recent reports about a group of individuals who are claiming unfair dismissal from the Formula 1 team following its takeover by new owners," a team statement read.
"The team is now taking legal action against those parties representing the individuals concerned, and each person involved, seeking compensation for the damages suffered by the team due to the gross misrepresentation of the facts made by all those concerned.
"These claims include the statement that they have been released from Caterham F1 Team - this is incorrect. Caterham F1 Team's staff are employed by a company that is a supplier to the company that holds its F1 licence, the licence that allows it to compete in the Formula 1 World Championship.
"Additionally, the team has read claims that its staff were not paid in July - again, this is wholly untrue. Every individual currently employed by Caterham F1 Team was paid their July salary in full on 25th July, one week before it is formally due on the last day of the month, in this case 31st July.
"A formal request for the withdrawal of the relevant press statement issued on 28th July has been made by Caterham F1 Team and the team will vigorously pursue its action against all those concerned. However, it will not allow its core focus to be distracted from achieving tenth place in the 2014 Formula 1 World Championship, and building for the 2015 campaign and beyond."