Senna out to silence critics
Bruno Senna hopes his sixth-place finish in Malaysia will go some way to answer critics who say he is only in F1 because of his famous name.
By Mike Wise at Sepang
Last Updated: 26/03/12 4:32pm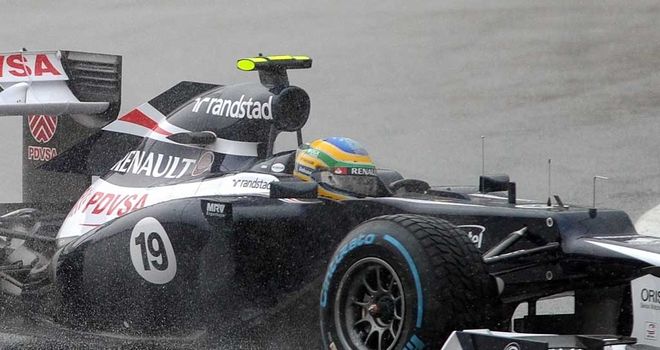 Bruno Senna hopes his sixth-place finish in the Malaysian Grand Prix will go some way to answer critics who say he is only in Formula 1 because of his famous surname.
The Williams driver earned the best result of his F1 career to date on Sunday after coming through the field from dead last following a collision with team-mate Pastor Maldonado on the opening lap.
Now in his third year of F1, Senna has struggled to establish himself after spells at HRT and Lotus-Renault. As is the case with Maldonado, his move to Williams prompted accusations that his seat was secured more as a result of money and connections than talent.
"At the end of the day, there's always going to be critics and I know that there were people who were criticising Vettel last year for whatever reason," said Senna, who replaced Rubens Barrichello at the team.
"You're never going to please everybody and for sure having a strong result takes some wind out of the critics' sails. Hopefully we can continue having strong results and make sure that I deserve my place here."
Bad start
Starting thirteenth on the grid, Senna's race got off to a bad start when he and Maldonado collided on the opening lap - an incident for which the Venezuelan was blamed.
"I tried to pass Pastor on the outside on Turn 5 and into Turn 6 we were a bit side by side and I don't think he saw me. And we turned in and I couldn't avoid it. So unfortunately it damaged my car, damaged my race and damaged Pastor's car a little bit. But, you know, it's racing," he shrugged.
"Me and Pastor both had a very good first few corners. We were catching up and I think we gained quite a few positions, but maybe he got a bit optimistic."
Senna pitted at the end of the opening lap and also took on full wet tyres in anticipation of the rain which eventually led to the race being suspended. However, it was only when he switched to intermediates following the restart that his afternoon came alive.
Still in last place at the time, he started to move through the field - a climb which even included a Senna versus Schumacher battle at one stage.
Ayrton's nephew was in the points by lap 27 and made further progress after subsequently stopping again for slicks as the track dried.
"When you have the confidence that your car is good, you can push and catch the guys in front. It was really nice," he said. "I saw I was catching the guys and I was like 'I'm going to make this work'.
"Adapting to the track was really tough, it was changing every single lap - you had to do different lines to find the grip. Fortunately we did that well and so made the difference in the right places to overtake."
Exciting
Senna, whose previous best result was a ninth place in Italy last year, was quick to label the race the best of his F1 career so far.
However, he seemed more enthused by Williams' FW34, in which Maldonado also showed strongly in Melbourne before crashing out.
"It's really exciting to see the car's potential. But the fight is so tight I guess we have a lot of work to do and hopefully get everything together - and hopefully score some points," Senna added. "The fight is going to be tough from now on."