Sauber denies conspiracy talk
Peter Sauber has rubbished suggestions that Sergio Perez's race engineer sent him a coded radio message not to attack Ferrari's Fernando Alonso.
Last Updated: 26/03/12 3:50pm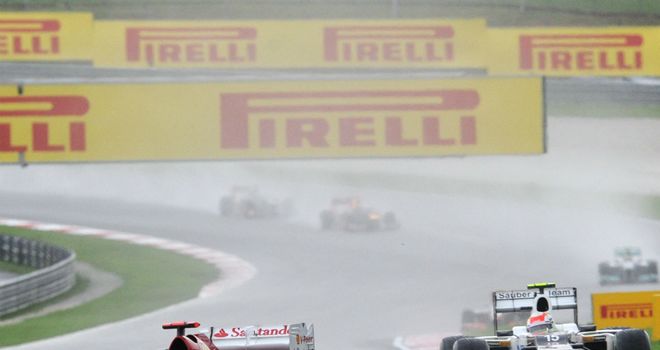 Peter Sauber has categorically rubbished wild conspiracy theories suggesting that his team sent Sergio Perez a coded radio message not to attack Ferrari's Fernando Alonso in the closing stages of the Malaysian Grand Prix.
In the final two stints at Sepang Mexican star Perez set off on a relentless pursuit of the Ferrari as the track dried, wiping out what had been a six-second lead to nothing with seven laps to go only to run wide over a wet kerb as he prepared to enter the backstraight, meaning he had to settle for second.
However, the broadcasting on the world feed of a radio message from his race engineer just before the error that cost him the win promptly led to some accusations of there being a collusion between Sauber and Ferrari, their long-time engine suppliers and close allies.
Perez's race engineer was heard telling his driver "be careful, we need this position" but speaking afterwards Team Principal Sauber insisted the pit wall had simply been reminding the 22-year-old to be careful in the conditions and not throw away a strong result.
"He meant that we needed the result. It's a misunderstanding. It was because that behind us, all the midfield teams, our main competitors, scored points," Sauber was quoted as saying by the Guardian.
"So it was important we kept the result."
And when pressed on whether the team had wanted him to stay behind Alonso, Sauber insisted: "No. We told him 'be careful we need the result", while adding their had been no discussions between his team and Ferrari.
Perez is a member of the Maranello marque's young driver academy and has been strongly linked as a replacement for Felipe Massa alongside Alonso in recent months, speculation that has gone into overdrive since Sunday's race.
Both the Mexican and Ferrari have, however, insisted no switch to replace the struggling Massa is afoot.