Karthikeyan penalised by stewards
Malaysian GP stewards gave Narain Karthikeyan a 20-second time penalty following his collision with Sebastian Vettel while being lapped.
Last Updated: 28/03/12 10:00am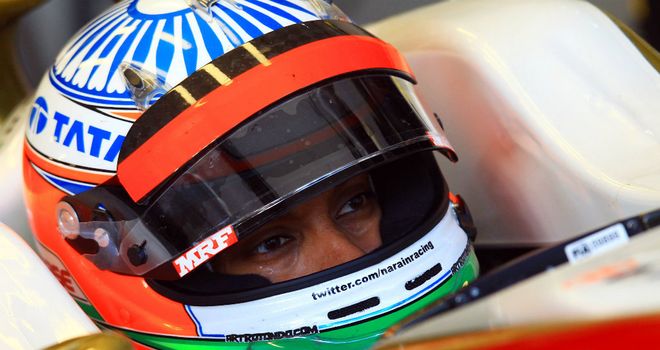 Malaysian Grand Prix stewards hit Narain Karthikeyan with a 20-second time penalty in the hours after Sunday's race after adjudging him to be the guilty party in his collision with World Champion Sebastian Vettel.
The HRT driver was in the process of being lapped by Vettel on lap 47 of the rain-hit Sepang race when he made contact with the Red Bull's left-rear wheel as the German moved back across to take the racing line.
The contact punctured Vettel's tyre and dropped him from fourth place out of the points, leaving the 24-year-old incensed and prompting him to brand Karthikeyan an "idiot" in the post-race interviews.
Both drivers were summoned to see the stewards the explain the incident and afterwards the four-man panel - which included three-time race winner Johnny Herbert - issued a statement confirming that in their view Karthikeyan had caused "a collision with Car 1 Sebastian Vettel".
The Indian driver was therefore judged to have contravened Article 16.1 of F1's sporting regulations and was duly given the standard 20-second time penalty in lieu of a drive-through as the judgement was passed down after the end of the race.
The penalty dropped Karthikeyan behind HRT team-mate Pedro de la Rosa in 22nd and last place in the classification.
Karthikeyan had earlier been involved with a collision with McLaren's Jenson Button at Turn Nine, although this was for position as the Indian had moved up to 10th place courtesy of an inspired decision to start the race on full wet tyres.