Vettel takes victory and the lead
Sebastian Vettel has claimed his third successive victory and taken the lead of the World Championship after heading a Red Bull one-two in Korea.
By Pete Gill
Last Updated: 14/10/12 1:01pm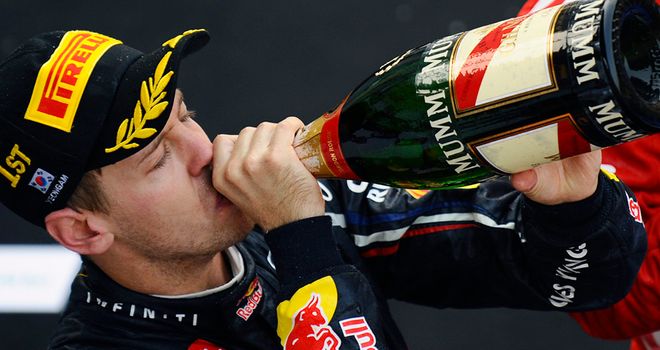 The contrast couldn't be more striking. While Sebastian Vettel cemented his status as title favourite by claiming the lead of the World Championship as he headlined a Red Bull one-two in the Korean GP, McLaren suffered the devastation of effectively being removed from both of F1's championships.
What was once a topsy-turvy season now increasingly resembles a repeat of 2011 with Red Bull and Vettel upgraded into dominant, unstoppable forces. Such was the World Champion's superiority that he was scarcely seen by television viewers as he scampered off into a distant distance to secure his third successive victory and dislodge Fernando Alonso from the summit for the first time since mid-June.
There was some late anxiety on the Red Bull pitwall as the team fretted about tyre-wear on the German's RB8, but his margin of victory - eight seconds from team-mate Mark Webber and thirteen from the third-placed Alonso - was even more telling. Not since Lewis Hamilton's retirement in Singapore two-and-a-half grands prix ago has a driver other than Vettel led any of the 145 laps since raced in F1.
That kind of form suggests he is on an unstoppable march to a hat-trick of titles - and legendary status in the sport - but, in a response that illustrates the type of seasoned championship contender he has matured into, Vettel insisted to Sky Sports F1: "Nothing has changed.
"Obviously we had a good couple of last races but if you look at the season so far it was up and down for all of us, up and down for ourselves as well. I think the last couple of races it was key to do our thing, nothing came in our way and so we have to try and keep that momentum and do exactly the same in the next couple of races."
A month is always a long time in F1 but the last thirty days have felt like a lifetime and while Vettel once again tasted champagne on the podium Hamilton was reduced to removing a piece of astro-turf which had lodged itself under his MP4-27 during the final lap - an absurdity which felt peculiarly befitting of McLaren's day of disaster.
From start to finish, what could have gone wrong, duly did. Having just about avoided the lunge of future team-mate Sergio Perez into the first corner, an enraged Jenson Button was punted out of the grand prix at the third by the Sauber of Kamui Kobayashi. In unsually outspoken fashion, Button later branded the move by the Japanese driver - who seems certain to lose his seat for next season - as "idiotic".
As for Hamilton, his race had descended into costly calamity long before it ended in farce. A rear roll-bar failure on lap eighteen removed the 2008 World Champion from the frontrunning mix and, in the process, this year's title fight. Try as he might in a performance hailed as "heroic, epic, stirring, and majestic" by his team boss Martin Whitmarsh, there was no way around a problem which made his car a sitting duck along the straights and a dog in the corners.
"Lewis may have scored only a single world championship point this afternoon, but I'm happy to be quoted as saying that it was probably the hardest won and most heroically fought world championship point in McLaren's long history," Whitmarsh added grandly, but from Hamilton himself there was no pretence that tenth place was sufficient to keep him in the title hunt.
"That's kind of us out of the championship," he acknowledged forlornly. "It's tough because it's so much work from the team, so much work from myself and all the people around to try and win this thing.
"We were still in the fight up until now but it's kind of too far away now."
It could, though, still be worse: Hamilton could be already be in the employment of Mercedes, for whom Michael Schumacher endured one of the most ignominious afternoons of his career as he wound up a lowly 13th that would have been even more humiliating but for the retirements of Button and Kobayashi.
"There are some races where nothing comes together and which you simply have to move on from straight away. This was one of them," was the nearly-retired seven-times champion's blunt verdict on his day.
At the front, meanwhile, Vettel was in cruise control. Webber did nothing wrong, he was simply out-paced by a superior force after losing his lead into the first corner principally because of the peculiarity at the unloved Korean International Circuit which sees those cars starting on the dirty side of the grid offered the inside line into Turn One. To put Webber's loss into context, by the fifth lap every top-ten qualifying car which started on the right-hand side of the grid had lost position to the car which had lined up to its left.
After that, there was no stopping the faultless Vettel, not even when his team implored him to slow down in order to protect his tyres. His response was to set his fastest lap of the race on his final tour of the circuit.
Alonso, typically, fought to the bitter end as he successfully pursued a damage-limiting third place ahead of Ferrari team-mate Felipe Massa, but, with four races to go, there's only one car to be in.
Pete Gill