Romain Grosjean, third on the grid in Korea, says qualifying is getting 'better and better'
Frenchman produces another strong display as Raikkonen languishes
By Mike Wise in Yeongam
Last Updated: 06/10/13 7:27am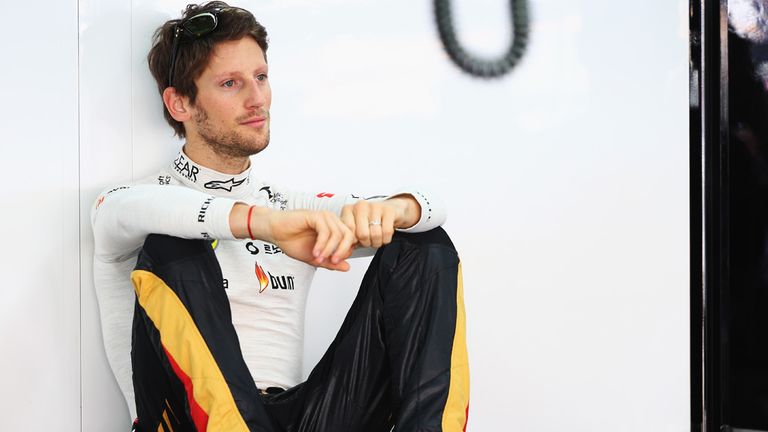 The Frenchman has gained a place because of Mark Webber's ten-place penalty and buoyed by his recent run of strong performances, is targeting a podium finish.
Although Grosjean admitted that polesitter Sebastian Vettel is probably out of reach, he reckons his Lotus can keep pace with Mercedes pair Lewis Hamilton and Nico Rosberg.
"More or less, that's where we wanted to be. Red Bull and Vettel are basically too quick but we're going to fight Mercedes. We were thinking more to fight with Ferrari to start with but it was obvious we were quicker on a good strategy," he said.
"You don't start the race thinking you can't do your best. But if it's as it was in Singapore then it's not worth trying to follow (Vettel). We'll try for a good pace, see how the degradation is and I'll get the best out of my driving and see what I can achieve. It would be nice to be on the podium."
It's the second time in as many races that Grosjean has lined up third on the grid. He was on course for a podium in Singapore two weeks ago before an engine problem intervened but scored four straight points finishes before that, including a third place in Germany.
With Kimi Raikkonen lining up ninth, Saturday's result also means that Grosjean has now outqualified the Ferrari-bound Finn five times in the last seven races.
It could have been even better for the 27-year-old, however. Making it through Q1 on the prime medium tyre meant that Grosjean had saved two sets of supersofts for the top ten shootout.
Yet he admitted that his second run had been slightly scruffy. "I tried in my last attempt in Q3," Grosjean said. "I think I was off a tenth and then a bit of rear-locking into Turn 10 meant I lost a tenth. I tried to recover but the lap was more or less similar to my first run in Q3."
Raikkonen has blamed his Saturday downturn on the changes to the tyres made mid-season but it's not a sentiment shared by Grosjean. "I hated the first one this year. But since we've put the car back on track, qualifying has been getting better and better," he said.
His team-mate only made one run in Q3 having already used up his supersoft tyres. "I made a simple mistake and we ended up P10. That's the way it goes," was Raikkonen's frank assessment.
The 2007 World Champion said that the change in tyres was causing understeer, which had once again surfaced on Saturday.
"On one lap it's been a bit difficult because of the front end. We don't have enough front end; I think we know the reason but anyhow," Raikkonen said.
"Since we changed the tyres and it's more like it was last year, for me it was definitely better qualifying with the other tyres.
"It was a bit more sharp in the front end. We've got to try and find a way to get it back what we want to be. It seems to have hit us quite hard in qualifying lately but I'm sure we can find something."
However, after showing a competitive turn of long-run pace on Friday afternoon, Raikkonen seems confident he can once again make up places.
"Obviously it's not ideal but that's how it goes sometimes and we'll try and do a bit better tomorrow," he added.