Kimi: Lotus need to take opportunities
Kimi Raikkonen has admitted he was disappointed to only finish third in Spain given the rate with which he caught the leaders in the closing stages.
Last Updated: 13/05/12 3:32pm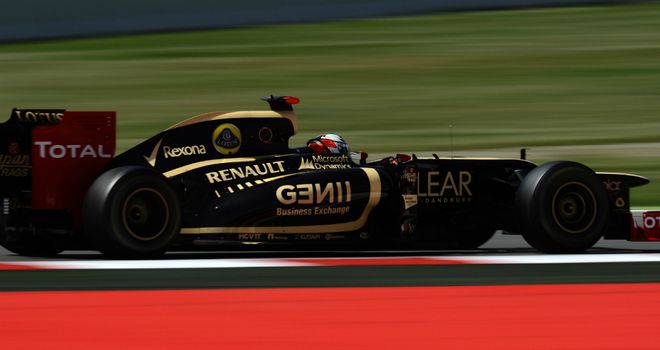 Kimi Raikkonen has admitted he was ultimately left disappointed to only finish third in the Spanish Grand Prix given the pace Lotus displayed in the final stint of the race.
Lotus, and Raikkonen in particular, were many seasoned observers' tips to become the fifth different winners in five races this season even before the Barcelona weekend got underway.
Those predictions appeared to be vindicated after both Raikkonen and team-mate Romain Grosjean showed strong long-run pace in Friday practice, and then achieved promising grid positions, but both drivers lost touch with race leaders Fernando Alonso and Pastor Maldonado through the first two stints.
Unlike the leading pair, Lotus kept on the soft tyres for the second stint and Raikkonen suspects this strategy call ultimately proved costly given the way he began to catch the leaders on the harder tyre in the closing laps, eventually finishing just 0.6s adrift of Alonso having been as many as 20 seconds behind.
"We have to look but a bit disappointed, I expected to be a bit stronger in the race - especially at the beginning," he said.
"In the end we were very good, but it was too late. We were not fast enough at the beginning of the race and that was why we could not fight for the win.
"We proved in the end that we had the speed but we have to look [back] at what we did, maybe we made the wrong choice in the first pit stop.
"I was not disappointed [initially] in the race because I saw I could not follow them in the beginning but in the end when you catch them up almost 20s you have a disappointing feeling.
"But that's racing and at least we scored some good points for the team and we're going in the right direction."
After failing to capitalise on what had been arguably race-winning pace last time out in Bahrain, Raikkonen admits Lotus have to start taking their chances when they arrive - although stressed that the team could be happy with their consistently strong form
"Twice already [we have finished on the podium], but unfortunately we're not always going to get there [to win]. [When] you get the chance and then you should take it because it's not every race that you're going to be able to fight for that position or even try it.
"So hopefully we can keep doing what we are doing now and I'm sure at a certain point I'm sure that things will go exactly right and we can win.
"But so far it's been a good step and the car has been strong everywhere. Next race is a bit different, Monaco - it's hard to say how it goes there. But the team has done a good job. We still have work to do and things to improve but so far it is going in a good way and I am happy with it."