Williams admits win a big relief
Sir Frank Williams has spoken of his relief after seeing his team end their eight-year victory drought, admitting they "really needed that win".
Last Updated: 13/05/12 4:29pm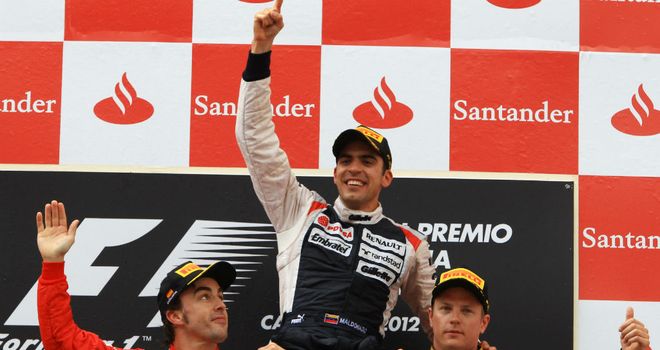 Sir Frank Williams has admitted his team "really needed that win" after the former multiple champions ended an eight-year, 132-race wait for their latest victory at Barcelona.
Fresh from the worst season in the Grove-based squad's illustrious history last year, which prompted an overhaul of the team's technical department, even before Pastor Maldonado's win on Sunday Williams's 2012 car had already proved a massive step forward over the previous challenger in the season's opening races.
After seeing the Venezuelan driver deliver the team's first victory since Juan-Pablo Montoya's at the 2004 Brazilian GP, team owner Williams spoke of the relief he felt at his squad finally returning to the winners' circle.
"It's a relief," he told Sky Sports F1. "Many, many years since we last won a Grand Prix. But for all the boys out there [in the team]...a million thanks to them and all the people at the factory."
He added: "There have been many major reliefs for major cities in history at the last minute and you can say this is another of them. It was ten years or something - we really needed that win."
Williams, who admitted he had "not a clue" that his team would be in contention for victory ahead of the weekend, showered Maldonado with praise after the former GP2 Champion fended off Fernando Alonso for his debut F1 success.
Asked by Damon Hill about Maldonado's performance, Williams replied: "I don't think I saw him make one single error at all. He drove way above one's expectations and he is a brilliant racing driver, maybe a possible World Champion.
"He's very un-Latin and a pleasure to have around too which is very unusual for one or two of your ilk! But, no a great man and I hope he gets greater and greater in a racing car."
The vastly experienced team boss, who celebrated his 70th birthday in the paddock on Saturday night, also credited former CEO Adam Parr with making the changes that have brought Williams back to the front.
"Very little that came from me to be very frank and very honest," he said of last winter's overhaul.
"We had a chief executive last year, who very sadly quit in the end, his name was Adam Parr and he put together nearly all of this. He put together a great reorganisation of various people so on and really set us on a strong course which this is really hopefully the beginning."