Red Bull have 'lots to understand'
Christian Horner has said that his Red Bull team have "plenty to understand" after mysterious wing problems and general pace issues in the Spanish GP.
Last Updated: 14/05/12 9:24am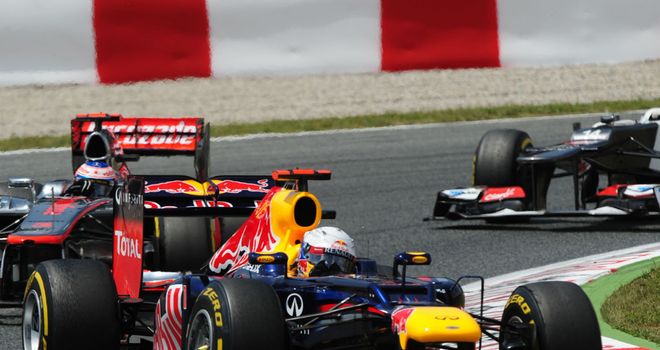 Christian Horner has conceded that his Red Bull team have "plenty to understand" ahead of the next round in Monaco in wake of mysterious front wing problems and general pace issues during the Spanish GP.
The World Champions had hoped in Sunday's race to capitalise on the fact that both of their drivers had access to several sets of fresh tyres apiece, yet both Sebastian Vettel and Mark Webber ultimately struggled to make headway up the order for much of the race.
A late charge saw Vettel finish sixth but, in addition to a drive-through penalty for failing to slow for yellow flags, the RBR pit crew was forced to change the German's front wing at his final pit stop - having already earlier had to do the same on Webber's car.
Red Bull have yet to confirm the reasons for the damaged wings and Horner admitted it had been a tricky race for the team that left them with plenty to analyse over the forthcoming days.
"A difficult afternoon. Unfortunately Sebastian had a drive-through penalty for an incident under a yellow flag, which I believe is because he had the DRS open," the Team Principal said.
"We also had front wing damage on both cars that necessitated two nose changes. Despite that, it was a strong recovery from Sebastian to finish sixth, passing two McLarens and Rosberg in the closing stages and, as a result, we leave here still leading both the Drivers' and Constructors' World Championships.
"For Mark it was a tough race with the wing change early on and then unfortunately a mystifying lack of pace, which resulted in him spending a lot of the race looking at the back of Nico Hulkenberg's car. So, there is plenty to understand."
Vettel, who was joined at the top of the Drivers' Championship by Fernando Alonso, who finished second, speculated that a piece of debris or rubber may have become lodged in his front wing prior to the change.
"I don't know what the problem was when we had to change the nose of the car; I wasn't sure if I had damage or something stuck at the front - maybe a piece of rubber or something," he said.
"I tried another lap, but it wasn't the right thing to do, so we decided to come in and change the nose to make sure. It lost us some time, but it was the right thing, as I was told there was some damage to the front left of the wing."