Brawn vows to solve Schu issues
Ross Brawn has promised Michael Schumacher that Mercedes will do everything they can to ensure his car doesn't continue to suffer from reliability problems.
Last Updated: 02/06/12 11:57am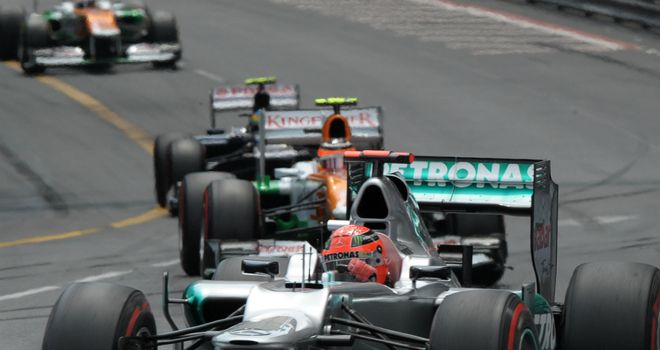 Ross Brawn has promised Michael Schumacher that Mercedes will do everything they can to eradicate the reliability problems that have compromised the German's season to date.
What had started as the standout weekend of Schumacher's comeback with the fastest qualifying time around Monaco on Saturday gave way to a hugely disappointing Sunday for the 43-year-old.
From sixth on the grid, owing to the penalty carried over from the previous race, he was hit by the Lotus of Romain Grosjean and then, having lost ground behind the other Lotus of Kimi Raikkonen, eventually dropped out of seventh in the closing stages with a fuel-pressure problem.
That marked Schumacher's third mechanical-related retirement so far this season, and fourth DNF from six races in total, and means he remains a lowly 18th in the Drivers' Championship with a meagre two points compared to team-mate Nico Rosberg's 59.
Brawn admits the latest retirement was "very disappointing" for both driver and team and has vowed to improve the situation for Schumacher - starting immediately at the next race in Montreal.
"He [Schumacher] was hit on the run to the opening corner which cost him positions, but was very quick when a fuel pressure problem started to slow him later in the race," the Mercedes Team Principal said.
"We tried to continue but it was costing him too much time, dropped him out of the points and forced us to retire the car. It was very disappointing because he put in a great performance this weekend and he was still on course to score useful points.
"We need to make sure we eliminate the problems for him, starting in Canada."
Mercedes' CEO Nick Fry told Sky Sports F1 after the race that while the seven-times World Champion was naturally disappointed with how his Monaco weekend ultimately panned out, he would characteristically continue to give it his until his results turned.
"Michael seems to be on a bit of a bad run, a bit of misfortune again, but he continues to try," Fry said.
"He's disappointed there's no doubt and he hoped for a lot better today but his performance yesterday [in qualifying] was fantastic. The first lap [in the race] showed how determined he is, and I'm sure he'll be back in Montreal in two weeks' time determined to go again. So he's not going to give up easily."